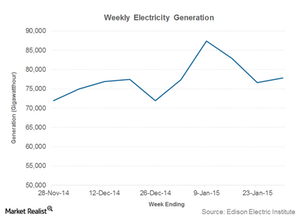 Coal producers benefit from increased electricity generation
By Mike Sonnenberg

Updated
Electricity generation
Over 90% of the coal produced in the US is used for electricity generation. The Utilities segment is coal's largest end user. As a result, coal investors should watch for a trend in electricity generation.
Electricity storage is expensive. Most of the produced electricity is consumed instantaneously. So, electricity generation mirrors consumption.
Article continues below advertisement
Electricity generation rises, but remains below historical levels
After falling during the January 23 week to 76,681 gigawatt hours, or GWh, electricity generation in the US increased marginally to 77,867 GWh. Most of the census regions in the western half saw a fall in electricity generation. However, the fall was more than offset by increased generation in the eastern half—especially in the southeast. Cooler temperature led to increased electricity demand.
While electricity generation increased week-over-week, it remains below historical levels. During the same week last year it was 85,687 GWh. The five-year average is 79,261 GWh.
What does this mean?
Thermal coal is almost entirely used for electricity generation. As a result, an increase in electricity generation is positive for coal producers (KOL) like Peabody Energy (BTU), Alpha Natural (ANR), Arch Coal (ACI), and Cloud Peak Energy (CLD)—keeping everything else constant. However, in the current environment, natural gas prices are low. Coal producers may not benefit from rising electricity generation. Coal may have lost market share.
Weekly coal production data may give some idea about coal's demand for electricity generation.