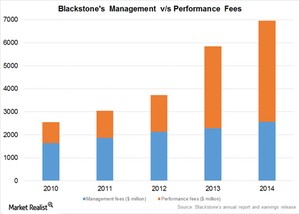 Blackstone goes the distance to get performance
By Robert Karr

Mar. 2 2015, Updated 1:05 p.m. ET
Innovation drives growth
Since going public in 2007, the Blackstone Group (BX) has raised more than $120 billion, representing 40% of total assets under management, for its new investment strategies. The company has over 1,300 limited partners that have invested in one or more of its product offerings. The limited partners are mainly institutional investors, fund of funds, and high-net-worth individuals.
Institutional investors provide more than 80% of the alternative asset management industry's capital. Generally, these investors prefer bigger asset managers.
Article continues below advertisement
Preferred option among institutional
As a diversified fund manager with product offerings in private equity, real estate, and hedge fund allocations, Blackstone has always been well positioned to contend for new capital and reinvestments. Its scale allows the company to innovate, understand the needs of its limited partners, and provide the innovative fund options that its competitors take longer to work out.
Improving invested holdings
Blackstone's strength lies in its ability to improve company performance by hiring industry leaders to manage them on a day-to-day basis. Typical value investors wait before buying at the right price. But Blackstone actively helps companies improve operations before also buying at the right time.
Blackstone spends resources and hires industry leaders, retaining them in-house, to run these companies and intervene operationally to generate higher returns. It has developed a strong network of professionals and industry leaders across sectors.
In building an industry-leader's network, Blackstone is facing competition from private-equity focused firms such as Carlyle Group (CG), KKR & Co. (KKR), and Morgan Stanley (MS). MS makes up 1.85% of the Financial Select Sector SPDR Fund (XLF).
BAAM and real estate
The company's two product offerings—Blackstone Alternative Asset Management, or BAAM, and Blackstone's real estate operations—have contributed significantly to its assets under management in the past three years. BAAM has contributed capital to the fund of funds model under hedge fund offerings. The offerings are customized for separate accounts or accounts with similar themes.
The company has also expanded based on the scale of its real estate operations. It has enough resources to purchase assets at distressed prices when sellers are looking for exit options. It has also developed a strong network of real estate buyers who can provide Blackstone quick liquidation options.