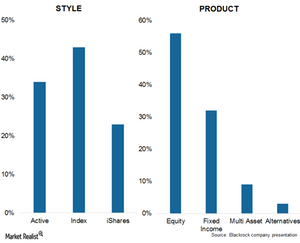 BlackRock – the biggest asset manager in the world
By Robert Karr

Apr. 2 2015, Updated 10:08 p.m. ET
Overview of BlackRock
BlackRock (BLK) is the world's largest publicly traded investment management firm. As of December 31, 2014, it had assets under management, or AUM, of $4.65 trillion. This is ~7% of the total assets under management across the globe.
In two decades, BlackRock grew from a one-room bond investment shop to the world's largest asset manager. Its clients include governments, sovereign wealth funds, and retail investors. The corpus is managed through various product offerings like single and multi-asset portfolio investing in equities, fixed income, alternatives, and money market instruments across global markets and asset classes.
Article continues below advertisement
BlackRock's presence
BlackRock is a bulge bracket investment manager. It's present in all of the product categories. The product offering is done through various structures, iShares, ETFs (HDV), separate accounts, and mutual funds. It also offers risk management and advisory services to institutional investors through BlackRock Solutions, or BRS.
BlackRock is independently managed. Institutional investors own 95.48% of BlackRock. Among the investors, PNC Financial Services (PNC) holds 20.91% of BlackRock's voting common stock.
BlackRock provides long-term product offerings in the form of active and passive strategies. Active strategies are used to generate returns over the benchmark or index return. The company offers two strategies in the segment. The first strategy is based on fundamental research. The second strategy utilizes quantitative models for portfolio construction.
The passive strategies—institutional non-ETF index products and iShares ETFs—are utilized to seek a similar return as the corresponding index. A portfolio is built up with a similar risk and return profile.
Inorganic growth strategy
BlackRock had substantial growth over two decades with a combination of organic and inorganic strategies. It made several high-profile acquisitions. This led its assets under management to expand quicker. It acquired business from Merrill Lynch, Barclays (BCS), Macquarie Group (MIC), Credit Suisse (CS), State Street (STT), Quellos Group, and R3 Capital Management.
These companies, as well as other players, are part of the Financial Select Sector SPDR Fund (XLF).