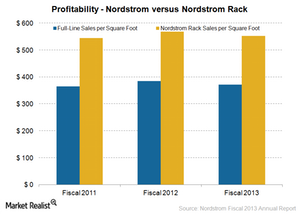 Big plans for Nordstrom Rack stores
Nordstrom Rack stores
In 1975, Nordstrom (JWN) opened the first Nordstrom Rack, the company's off-price division, in the downtown Seattle store. Nordstrom Rack stores sell clearance and end-of-season designer merchandise at a 30–70% discount. Today, there are 167 Nordstrom Rack stores across the US. Nordstrom Rack stores have performed better than mid-scale department stores like Macy's (M), Kohl's (KSS), and Dillard's (DDS). The SPDR S&P Retail ETF (XRT) had 6.33% holdings in department stores as of February 11, 2015.
Article continues below advertisement
Nordstrom Rack more profitable
Nordstrom Rack stores are more profitable than the company's full-line stores. In fiscal 2013, Nordstrom Rack generated $553 in sales per square foot compared to the $372 in sales per square foot generated by full-line stores. Nordstrom Rack's fiscal 2013 net sales were up 12% to $2.74 billion. The company's 22 new stores drove this growth. In contrast, Nordstrom's full-line store sales declined by 3.25% to $7.71 billion.
Growth plans
Currently, Nordstrom Rack stores outnumber Nordstrom full-line stores. At the end of the third quarter of fiscal 2014, there were 167 Nordstrom Rack stores and 119 full-line stores.
The company is investing heavily in the expansion of Nordstrom Rack stores. The goal is to reach 230 stores by 2016. In the first nine months of fiscal 2014, the company opened 27 Nordstrom Rack stores in contrast to only three full-line stores.
Off-price war
Off-price stores and outlets have always attracted a lot of attention in the department store industry. A few years back, these stores were predominantly carrying damaged and unsold merchandise.
However, things are different now. Nordstrom Rack stores carry merchandise from full-line stores along with items specially purchased from many of the top brands sold at Nordstrom. About 47 of the top 50 full-line store brands are now available in Nordstrom Rack stores.
Upscale peer Neiman Marcus has a similar off-price store called Last Call. Even Macy's is contemplating opening off-price stores to compete with Nordstrom Rack and T.J.Maxx (TJX).