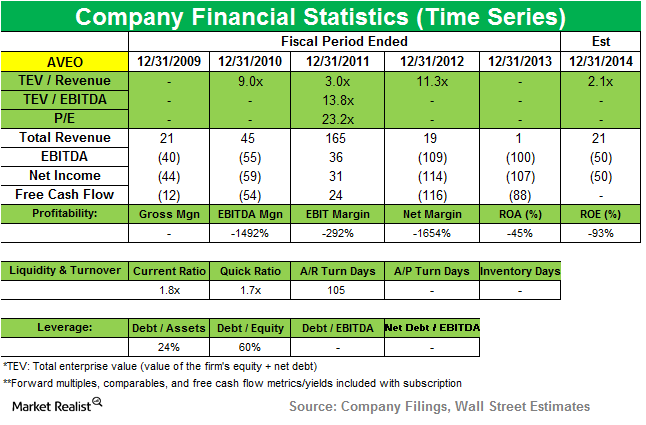 Aveo Pharmaceuticals loses position in The Baupost Group
By Samantha Nielson

Feb. 11 2015, Updated 3:06 p.m. ET
Baupost sells stake in Aveo Pharmaceuticals
Seth Klarman's The Baupost Group sold its stake in Aveo Pharmaceuticals (AVEO), according to a 13G filing  in January. The fund owned 3,829,350 shares in Aveo as of the last reported 3Q14 filing.
Article continues below advertisement
Overview of Aveo Pharmaceuticals
Aveo Pharmaceuticals (AVEO) is a biopharmaceutical company committed to discovering and developing targeted therapies for cancer by addressing unmet medical needs.
The company's proprietary Human Response Platform (or HRP) is leveraged in the discovery and clinical development of its therapeutic candidates. This platform was designed to overcome many of the limitations of traditional approaches to modeling human cancer.
Aveo uses patented genetic engineering techniques to grow populations of spontaneous tumors in animals containing human-relevant, cancer-causing mutations and tumor variations akin to what is seen in populations of human tumors. Its product candidates include AV-203, ficlatuzumab, tivozanib and AV-380.
Article continues below advertisement
Aveo's 3Q results missed on estimates, but net loss narrowed
Aveo's last reported 3Q14 revenue and earnings per share missed analysts' estimates. The company has not generated any revenue from product sales. All of its revenue is generated from license fees, milestone payments, premium over the fair value of convertible preferred shares sold to strategic partners, and research and development payments received from strategic partners.
The company's net loss narrowed to $14.4 million, or $0.28 per basic and diluted net loss per share, compared with net loss of $24.3 million, or $0.47 per basic and diluted net loss per share, for 3Q 2013. Total collaboration revenue was approximately $0.9 million for 3Q14 compared to $0.3 million for 3Q 2013.
Aveo sees management change, announces restructuring
In January, Aveo Pharmaceuticals announced its appointment of  Michael P. Bailey as president and chief executive officer. It said that as part of its restructuring, it has eliminated its internal research function as well as certain corporate support positions. The move focused on aligning "corporate resources with the company's future strategic plans, focusing on advancement of its pipeline in the clinical setting."
Article continues below advertisement
Aveo is also trimming about two-thirds of its workforce, or 40 positions. It anticipates that charges of approximately $4.5 million incurred in connection with the restructuring will be included in its results of operations for the first quarter of 2015. The reduction will lower compensation expenses annually by approximately $6 million and also reduce AVEO's facilities requirements by up to 80% of its current space.
Baupost's other positions