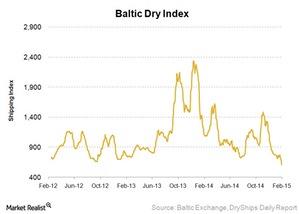 The Baltic Dry Index is at its lowest in 3 decades
By Katie Dale

Updated
January and February performance
The Baltic Dry Index is a measure of a number of shipping routes and the prices for transporting major bulk commodities such as coal, iron, steel, and copper across the oceans. It factors in the average daily earnings of Capesize, Panamax, Supramax, and Handysize dry bulk transport vessels. The index measures the demand for moving these raw materials against the supply of ships that can carry them.
On a year-to-date basis, the Baltic Dry Index has recorded a significant decrease of 28.3% in trading to $553 on February 11, 2015. On a year-over-year basis, the index has declined by 49.3%.
Article continues below advertisement
The Baltic Dry Index slid 0.9% to 554 points on February 9, 2015, the same level it fell to in July and August of 1986. In 2015, the index dropped 29.2% while in the past 12 months it has recorded a fall of 50%. Day rates declined for most ship types. The average daily earnings for Capesize vessels, which typically transport 150,000-tonne cargoes such as iron ore and coal, declined $103 to $6,604 on February 9, 2015. That's a fraction of what those ships can usually charge to ship large amounts of dry commodities.
Factors driving the dip
Of the many reasons for the dip in the Baltic Dry Index, the most important one is the slowing Chinese economy, which has led to weak demand for coal and other commodities. Also, bookings have slowed down before China's New Year holidays, resulting in excess fleet supply.
Doug Mavrinac, a maritime analyst at Jefferies, argues that the Baltic Dry Index will be impacted as a result of the dry bulk trade shifting its course from Brazil to Australia. China is importing more goods from Australia as compared to Brazil, as it leads to lower shipping rates due to lesser travel distance.
An analyst at London-based ICAP Shipping estimates the Baltic Dry Index will slowly start recovering after the Chinese New Year, though there likely won't be a major upswing.
A decreasing Baltic Dry Index has a negative impact on companies like DryShips (DRYS), Diana Shipping (DSX), Navios Maritime Partners (NMM), Navios Maritime Holdings (NM), Safe Bulkers (SB), and the Guggenheim Shipping ETF (SEA).