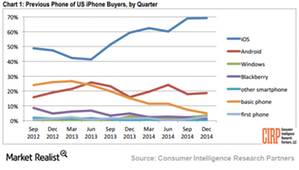 Apple bullish about iPhone prospects in the March quarter
Low percentage of iPhone upgrades
Previously in this series, we discussed the extent of dependency that Apple (AAPL) has on the continued growth of its iPhone business. No doubt, the iPhone 6 and the iPhone 6 Plus sales beat all analysts' expectations. This has resulted in Apple's stock going up by 10% in the days after Apple's earnings announcement. However, the key for Apple would be to keep surprising the world with respect to its iPhone sales.
Article continues below advertisement
Apple remains bullish about its iPhone prospects in the March quarter. During the conference call to announce its earnings, Apple's management mentioned that a majority of its customers have not yet upgraded their old iPhones to the iPhone 6 and the iPhone Plus. Its management added that about 16% of its customers migrated to the new iPhones.
Android to iPhone migration
Apple also mentioned that it is seeing momentum from users who are buying iPhones for the first time. It specifically mentioned that the current iPhone lineup is experiencing the highest Google (GOOG)(GOOGL) Android switch rate in any of the last three years. However, a report from Consumer Intelligence Research Partners suggests that a larger number of Android switchers came from international markets rather than the US.
According to the report, 19% of iPhone customers in the US reported switching from an Android phone in the December quarter. This switch is along the expected lines, as the report also mentioned that 16–26% of Android users have switched to an iPhone in the US in the past ten quarters.
The above graph shows the percentage of iPhone buyers who migrated from the rival phone in the US. The graph shows that about 70% of the iPhone 6 and the iPhone Plus buyers switched from old iPhones, while the percentage of buyers switching from Android, Microsoft (MSFT) Windows, and BlackBerry (BBRY) was relatively lower.