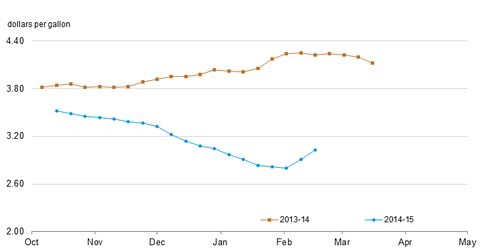 Analyzing the latest increase in heating oil prices
By Keisha Bandz

Updated
Heating oil
Heating oil is a distillate fuel oil. It's used for domestic heating. It's used in a moderate capacity in industrial burner units. Like gasoline and distillates, heating oil consumption or demand trends impact refineries.
Market Realist's weekly crude inventory and price series, on the Energy and Power page, also covers weekly changes in distillate inventories.
Higher demand for the fuel means bullish prices. This is positive for refineries like Valero (VLO), Marathon Petroleum (MPC), Tesoro (TSO), and Phillips 66 (PSX). All of these companies are part of the Energy Select Sector SPDR ETF (XLE). They account for ~9% of the ETF.
As of February 16, residential heating oil prices averaged ~$3.03 per gallon. The prices were ~$0.12 per gallon higher than last week. They were ~$1.20 per gallon lower than the price for the same week last year.
Heating oil prices are linked to crude prices. As crude prices began to fall late last year, so did heating oil prices. A recent increase in crude oil prices has been mirrored by heating oil prices.
Article continues below advertisement
EIA's forecasts
Much like natural gas and propane, heating oil sees an accelerated demand in the winter heating season. However, this time, the NOAA's (National Oceanic and Atmospheric Administration) projection of mild temperatures for the remainder of the winter is expected to minimize consumer expenditures on home heating—compared to last winter.
Lower crude price forecasts also resulted in lower projected residential heating oil prices. The EIA expects retail heating oil prices to average $2.96 per gallon this winter. This is $0.92 per gallon lower than last year. An average household that uses heating oil as a primary space heating fuel is expected to spend $1,645 for heating purposes this winter. This is $710 lower than last winter.