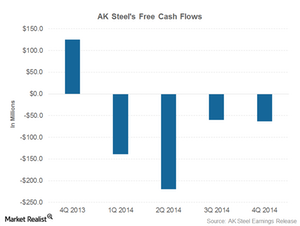 AK Steel Could Turn Free Cash Flow Positive In 2015
Free cash flows
Previously, we saw how AK Steel's (AKS) operating cash flows improved in 4Q14. However in the full year 2014, its operating cash flows were -$322 million, and the company also invested more than $850 million in 2014. The majority of its capital investment went into the Dearborn Works acquisition.
Article continues below advertisement
Higher leverage
AK Steel expects to be cash flow positive in 2015, which occurs when a company it generates more cash than it consumes. This does not include any borrowing or equity raising. Because its cash needs were higher than what its business generated, AK Steel has been a net consumer of cash in the last several years. The above chart shows free cash flows of AK Steel. The company had to increase its borrowings to offset its negative operating and investing cash flows, which increased its leverage ratios as compared to its peers.
The leverage ratios of Steel Dynamics (STLD) also went up after it acquired Columbus. Nucor (NUE) has one of the lowest leverage ratios in the steel industry. Currently, it forms 3.23% of the SPDR S&P Metals and Mining ETF (XME). Worthington Industries (WOR) forms 2.11% of XME.
Free cash flow positive
AK Steel's capital expenditure requirements are expected to come down in 2015, as it completed its share of investment in its joint venture with Magnetation. This will reduce its capital investments in 2015.
AK Steel also expects its working capital to come down in 2015. It has a higher level of inventory, which it expects to sell in 2015. This will reduce its cash requirements this year. As discussed previously, AK Steel expects its pension expenses to come down significantly in 2015. This is another positive sign for AK Steel investors.
In the next article, we'll explore how AK Steel plans to utilize this cash.