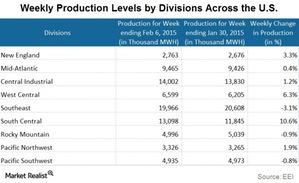 AEP and Entergy see elevated growth in electricity production
Electricity production by division in the US
The United States is divided into nine divisions by the Census Bureau. The Edison Electric Institute (or EEI) reports weekly electricity production data by these nine divisions across the US. You can see the weekly electricity output and week-over-week change in production levels in the chart below.
Article continues below advertisement
South Central division leads production growth
For the week ended February 6, 2015, except for the Rocky Mountain, Southeast, and Pacific Southwest, all nine US divisions registered growth in week-over-week electricity production.
The South Central division in the US saw the highest growth in week-over-week electricity production. Electricity production in the region surged by 10.6% compared to a week before. Entergy Corporation (ETR) and American Electric Power Company (AEP) operate in some of the states that are part of the South Central US. The two companies are part of the Utilities Select Sector SPDR (XLU). AEP makes up 5.07% of XLU, while Entergy makes up 2.55% of XLU.
The West Central region saw the second-highest rise in weekly electricity generation, after the South Central division. Generation grew by 6.3% in the region for the week ended February 6, 2015, compared to the preceding week. Xcel Energy (XEL) has significant operations in the US West Central division.
Weekly electricity production in the Southeast division dropped by 3.1% during the week ended February 6, 2015. NextEra Energy (NEE) is a leading power company operating in the region. The southeast division is the largest consumer of electricity among all US divisions.
Analyzing regional electricity production helps investors identify electricity demand in key micro markets within the US and track the companies that operate in high-growth regions.