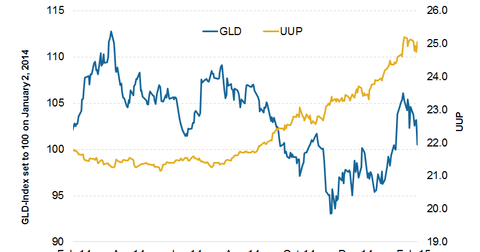 A stronger US dollar is negative for gold, most of the time
By Anuradha Garg

Nov. 27 2019, Updated 7:07 p.m. ET
The US dollar and gold
Gold mainly trades in US dollars, or USD. As a result, a weaker USD makes gold cheaper for other nations to purchase. It increases demand for gold.
Also, when the dollar starts to lose value, investors look for an investment to maintain value. Gold is a good alternative. Gold will go up and down depending on the strength of the USD and the US economy.
Article continues below advertisement
Tracking USD strength
Tracked by the Federal Reserve, the weekly US Dollar Index measures the value of the dollar compared to its significant trading partners. A rising value means the USD is stronger compared to other currencies. The index value increased from 112.09 on January 15 to 114.24 on February 6, a gain of 1.9%.
The above chart shows the performance of the world's largest physical gold-backed ETF, the SPDR Gold Trust (GLD) and the PowerShares DB US Dollar Index Bullish Fund (UUP), which tracks the value of the USD relative to a basket of the following six major world currencies:
euro
Japanese yen
British pound
Canadian dollar
Swedish krona
Swiss franc
Why is the USD strengthening?
The USD is gaining strength against major currencies mainly because of the loose monetary policies being adopted by the European Central Bank and the Bank of Japan. Such policies have weakened these two currencies in comparison to the trade-weighted dollar. Also, positive macroeconomic data, such as the improving job market and growing industrial activity in the United States, have boosted the dollar against other major currencies.
There are other factors impacting the USD that we'll discuss later in this series.
Industrial fallout
A stronger US dollar has a fallout impact on gold prices, which in turn affects gold stocks such as Goldcorp (GG), Barrick Gold (ABX), Newmont Mining (NEM), Kinross Gold (KGC), and ETFs such as the VanEck Vectors Gold Miners Index (GDX).
Three senior producers—GG, ABX, and NEM—make up 25.7% of GDX's net assets.
Investors need to keep in mind that sometimes relationships change. For example, both the USD and gold have been rallying since the start of 2015. Uncertain times and fear of what's to come seem to be leading investors toward the most assured, quality options.