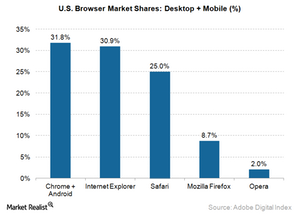 Yahoo's strategic partnership with Mozilla
Mozilla signs a five-year deal with Yahoo
On November 19, 2014, Mozilla entered into a five-year strategic partnership with Yahoo (YHOO). The deal would make Yahoo the default search engine for Firefox users in the US. Yahoo would be the default search engine for mobile and desktop. The agreement also provided a framework for exploring future product integration and distribution opportunities to other markets.
Yahoo believes that the partnership will expand its reach in search. It will also give Yahoo an opportunity to find ways to innovate more broadly in search, communications, and digital content.
As part of the partnership, Yahoo will introduce an enhanced search experience for US Firefox users. It will feature a clean, modern, and immersive design that reflects input from the Mozilla team.
Read more about this in Mozilla Firefox to replace Google with Yahoo.
Article continues below advertisement
Mozilla Firefox—share of US browser market
Mozilla Firefox has about a 9% share of the US browser market, according to a report from Adobe Systems' (ADBE) Adobe Digital Index. The report also noted that earlier this year, Google surpassed Microsoft (MSFT). Now, it ranks first in terms of US browser market share.
Google's (GOOG) (GOOGL) share increased from 26% in April 2013 to about 32% in April 2014. Meanwhile, Microsoft's Internet Explorer share declined from 37% to about 31% during the same period, as the above chart shows. Apple's (AAPL) Safari ranks third with a 25% market share.
Google browsers include the desktop-based Chrome and the mobile-based Android.