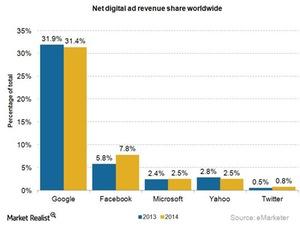 Yahoo plans to deploy its cash by selling its stake in Alibaba
By Patricia Garner

Updated
Yahoo's stake in Alibaba
In September, Alibaba (BABA) became a public company in the US stock exchange. Its initial public offering, or IPO, received an overwhelming response. Its stock finished its first day of trading at $93.89—up 38% from the $68 initial price that the company set.
Yahoo (YHOO) had a 23% stake in Alibaba before the IPO. It had to sell 122 million Alibaba shares. As a result, Yahoo received an after-tax windfall of $5.1 billion. After the IPO, Yahoo retained 383 million Alibaba shares. This represented a 15% stake in the company.
Article continues below advertisement
Now, Yahoo is looking to deploy the cash in order to achieve a better return on investments. Yahoo already committed to returning half of the cash proceeds to shareholders through a buyback or dividends. Yahoo is also looking for other alternatives to deploy the cash. To learn more, read Assessing Yahoo's prospects after Alibaba's initial public offering.
Last month, Starboard sent a letter to Yahoo's CEO, Marissa Mayer, asking her to consider acquiring AOL (AOL) with the remaining cash balance. The rationale that Starboard gave Yahoo was that a combined entity of Yahoo and AOL would be able to challenge Google (GOOG) (GOOGL) and Facebook's (FB) dominance in the digital advertising market.
Google dominates the online ad market
As the above graph shows, Yahoo's share of the digital advertising market will fall from 2.8% to 2.5% in 2014—according to eMarketer estimates. At the same time, Microsoft (MSFT) has a 2.5% share. It will surpass Yahoo for the first time. Microsoft increased its net worldwide ad revenue by more than 20% over 2013. Google will continue to dominate the global digital ad market in 2014. It will have a 31.4% share.
Read Google's dominance in digital advertising market to learn more.
Facebook and Twitter (TWTR) are making the biggest market share moves in 2014. While Facebook will increase its share from 5.8% to 7.8% in 2014, Twitter will see the next largest growth in market share. It will reaching 0.8%—up from 0.5% in 2013.