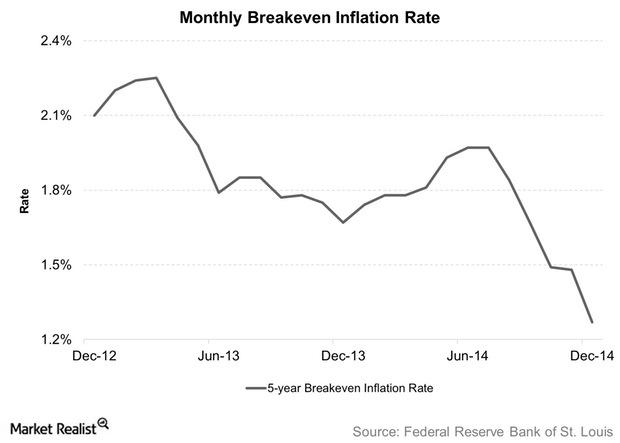 What worries Charles Evans?
Not unemployment
Charles Evans, the President and CEO of the Federal Reserve Bank of Chicago, isn't worried about unemployment. He expected the employment situation to improve significantly, and it has. In a television interview with CNBC, he called the December non-farm payrolls report "good, good progress." However, he did say that in his opinion, an unemployment rate of 5.25% or even lower was potentially sustainable.
Article continues below advertisement
Inflation expectations
Evans expressed concerns about the Treasury Inflation Protected Securities, or TIPS, data. TIPS protect the value of debt securities from eroding due to inflation and are issued for five, ten, and thirty-year maturities. To understand the importance of TIPS, please read Implications of inflation and the necessity of TIPS. A TIPS-related ETF is the iShares Barclays Treasury Inflation Protected Securities Bond Fund ETF (TIP).
About TIPS, Evans said, "it's moved down a lot in terms of future inflation and break evens." TIPS help measure inflation expectations. For instance, say the difference between the five-year Treasury note and the five-year TIP security is 1.2% for a particular month. This signifies that investors are expecting inflation to grow by 1.2% per year for the next five years.
This difference is also known as the break-even inflation rate. It's that level of inflation at which, for a certain maturity, investments in both kinds of securities would be equally profitable. Since this is way below the Fed's comfort level of 2%, Evans advised practicing patience on increasing the interest rate.
Article continues below advertisement
External factors
A slowing global economy is also a worrying factor for Evans. Though the domestic economy may be doing well right now in terms of economic growth, manufacturing and the jobs market, a global economic slowdown will directly affect all of these indicators. A slow-growing or decelerating Europe or Japan would mean fewer exports, including manufacturing exports. Since exports formed around 13% of US GDP in 2013, it would affect economic growth. Companies with an export focus will hire fewer people if there are fewer orders, so the jobs market will be affected.
A slowdown in exports would hurt US manufacturers like Boeing (BA). Transporters and industrials, which are among the country's biggest exporters, would be negatively affected. This, in turn, would affect the iShares Dow Jones Transportation Average Index Fund (IYT) and the SPDR Industrial Select Sector Fund (XLI), apart from the broad equity market (SPY).
Eric Rosengren, the Chief of the Boston Fed, spoke on the monetary policy environment. We'll take a look at that in the next article.