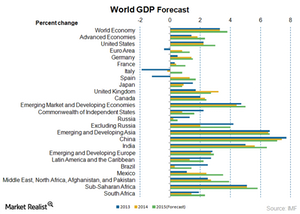 Why world economic growth impacts crude oil prices
By Gordon Kristopher

Nov. 20 2019, Updated 3:47 p.m. ET
World economic growth in 2014
World economic growth in 2014 was weak and is still recovering at a slow pace. Economic growth around the world is uneven.
Europe had slow economic recovery in 2014 due to a high debt burden and low investments. Economic activity in the United States reflects faster recovery and shows improvement in employment, the housing market, and financial conditions in 2014. Japan's growth dropped in the second half of 2014 due to an increase in the consumption tax. In the emerging markets, China's economic growth slowed down due to economic transitions. However, other Asian economies such as India are expected to have robust growth.
Article continues below advertisement
International Monetary Fund forecasts global growth in 2015
The International Monetary Fund (or IMF) in its recent report estimates that the world economy will grow at 3.3% in 2014 and 3.8% in 2015. It expects in 2015 that growth in developed economies will be driven by countries such as the United States. Developing countries will contribute the major share of global growth in 2015, which is expected to grow at 4.4% in 2014 and 5% in 2015.
Russia is expected to grow at 0.2% in 2014 and 0.5% in 2015 owing to geopolitical tensions and high debt. Falling crude oil prices will also impact Russia's growth.
Latin America is expected to grow at 1.3% in 2014 due to the drop in exports and domestic issues. It's expected to grow by 2.2% in 2015. Economic growth in Middle Eastern and North African countries is expected to be fragile. It's expected to grow at 2.7% in 2014 and 3.9% in 2015. The growth is driven by improved security conditions and external demand of oil.
Article continues below advertisement
OECD global growth in 2015
The above chart shows OECD's (Organization for Economic Cooperation and Development) GDP (gross domestic product) forecast for major countries in 2015 and 2016. This is positive for the crude oil market. It shows demand will increase in the long term, and higher demand will support higher crude oil prices in the long term. The OECD is a group of 34 countries formed in 1961 for economic progress and world trade. This report estimates world economy will strengthen in 2016 compared to 2015.
A stronger economy will boost consumption, and the demand for crude oil will increase. This will lead to higher crude oil prices in the long term. In the near term, oil prices will be on a downward trend due to an oil glut. As we saw earlier, lower crude oil prices will lead to low investments in new oil projects. There is also a decline in drilling of new oil rigs. This will all lead to a decline in production and will mean a lower supply in the long term. In turn, this will contribute to higher crude oil prices in the long term.
The rise in crude oil prices will increase the margins of crude oil companies such as Chevron Corporation (CVX), Exxon Mobil (XOM), BP (BP), Cenovus Energy (CVE), and PetroChina (PTR). The United States Oil ETF (USO) is also down by ~56% from mid-June 2014.
Investors need to know who will drive the consumption of crude oil. We'll discuss this in the next part of the series.