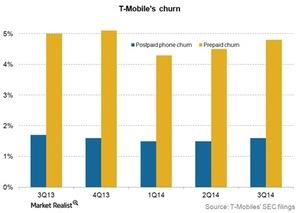 What are wireless telecom's key indicators?
By Ray Sheffer

Updated
Key indicators
Unlike wireline telecom, wireless has a dominant consumer segment. It has stiff competition among the four largest national providers. Also, it's a growing telecom segment. It has a larger base than wireline. If you're an investor in either the wireless segment or the telecom industry, you should look at some of the segment's key indicators.
Article continues below advertisement
Subscriber mix
In wireless, post-paid users are the sticky subscribers. They have higher switching costs than pre-paid users. Investors should expect relatively stable revenues in telecom companies that have a larger share of post-paid users in their subscriber mix.
Smartphone penetration
A larger share of smartphone users in the customer mix translates into increased data service usage. Smartphone users—like Apple's (AAPL) iPhone—tend to consume more data. It also means higher average revenue per user, or ARPU, for telecom companies. Currently, smartphone penetration is ~70%. This still provides enough room for wireless services to grow.
Article continues below advertisement
Churn and net additions
Since 2011, everyone in the US has had at least one wireless phone. The four large national carriers can only gain a new customer at other carriers' expense. Investors should watch the churn—the percentage of net subscribers that leave a telecom provider during a month. Telecom companies with high churn rates have to incur high customer acquisition costs.
There are two types of churn rates—post-paid and pre-paid. Due to pre-paid customers' relatively low switching costs, pre-paid churn is usually greater than the post-paid churn. Sprint (S) had a post-paid churn of 2.2%. It had a pre-paid churn of 3.8% in 2Q14. As you can see in the above graph, the difference was even more significant for T-Mobile (TMUS). It had a 1.6% post-paid churn. It had a 4.8% pre-paid churn in 3Q14.
For telecom companies, the difference between new customers and lost customers—over a period—is called net additions. It's a good sign if a telecom company's net additions increase periodically.
ARPU
Previously in this series, we discussed how ARPU indicates the composition of services a telecom company is selling to its customers. In wireless, ARPU is even more important due to a larger consumer base. However, investors should know that telecom companies report ARPU differently. Verizon (VZ) reports ARPA (average revenue per account). AT&T (T) also gives the post-paid phone-only ARPU.