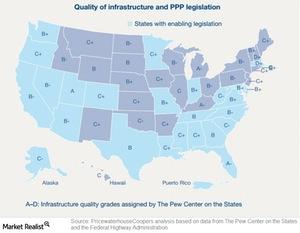 Will the QPIBs find a place in Congress' tax reforms?
QPIBs still require legislative approval from Congress
News about the proposed Qualified Public Infrastructure Bonds, or QPIBs, primarily generated a positive response. As reported by The Bond Buyer, Robin Prunty, managing director and analyst at Standard & Poor's, saw the QPIBs as "a low-cost approach to stimulating much-needed infrastructure investment."
The Bond Buyer also quoted Susan Collet, the president of H Street Capitol Strategies. Collet saw the proposal as a significant step forward in making the private activity bond, or PAB, model more robust. She said, "If Congress wants to include infrastructure financing as part of tax reform, QPIBs could be something considered."
Article continues below advertisement
Michael Decker, the Securities Industry and Financial Markets Association managing director and co-head of municipal securities, said, "It's a welcome proposal." He explained that if Congress wants to amend the tax code to make it more efficient and promote investment "this certainly fits the bill." His comment came on the ground that the QPIBs are in contrast to proposals—like the 28% cap on the valuation of tax exemption. This is the case with the current PAB.
Public investment and increased private participation in infrastructure
The Obama administration proposed new municipal bonds (MUB) (TFI). The bonds are intended to open another window for low-cost financing for the infrastructure sector in the US (SPY) (IVV) (QQQ). They're also intended to make the P3 (public-private partnership) model more attractive to the private sector. P3 contracts' private participants would be able to take advantages that accrue to a municipal bond issuer. As a result, the QPIBs should attract more private players. This will increase the participation.
The White House's statement clarified that the initiative doesn't intend to substitute public investment with private capital.
For a more detailed analysis of municipal bonds, read Why investors should consider municipal bonds despite Puerto Rico.