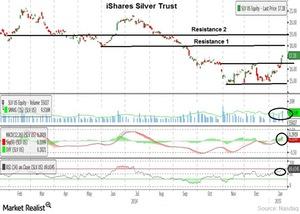 Will the iShares Silver Trust ETF continue its recent rally?
iShares Silver Trust ETF price movement
Technical analysis of the gold ETF (GLD) had offered a mixed signal on gold's price direction. So, what's the chart saying for silver, the precious metal considered "poor man's gold"?
Like gold, silver prices have rallied over the last three months, climbing 26%. Although silver broke above its previous peak in December one day later than gold, on January 16, 2015, it nonetheless benefited from the de-pegging of the Swiss franc against the euro by the Swiss National Bank—as we mentioned in the previous article of this series. The rally had pushed silver ETFs such as the iShares Silver Trust ETF (SLV), the ProShares Ultra Silver (AGQ), and the Silver Trust ETF (SIVR) higher. It also benefited silver stocks like Silver Wheaton (SLW) and Pan American Silver (PAAS).
Article continues below advertisement
Short term
Silver's performance mirrors the largest silver ETF, the iShares Silver Trust ETF (SLV). The above chart shows a double-bottom formation in the iShares Silver Trust ETF (SLV). The double bottom breakout above the resistance line suggests that the SLV ETF could move towards the next resistance level of ~$18. This will probably be supported by the expectation of the ECB's (the European Central Bank's) quantitative easing and continued volatility in the currency market.
SLV ETF prices could hit the next resistance level of ~$19, given enough bullish news or technical catalysts. However, you should keep in mind that the Relative Strength Index (or RSI) is in overbought territory. So, if the RSI rallies to overbought territory, then the SLV ETF rally may be close to an end. On the other hand, the moving average convergence divergence (or MACD)—the green bars—remains above the zero line. Values above zero are generally positive for prices in the short term.
Article continues below advertisement
Long term
Over the long term, the SLV ETF is in a downward trading channel. In the past, it has hit the lower bottom of the channel and bounced back. So the SLV ETF will repeat this trend by hitting the upper channel level of ~$20.
RSI is nearing the overbought level, and SLV ETF prices could fall after the RSI reaches overbought territory. MACD is rising towards the zero line, indicating a positive price movement of silver and SLV ETF in the short term.