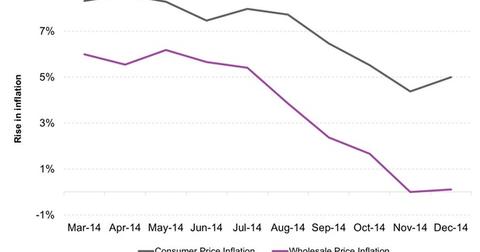 Why the Reserve Bank of India cut the repo rate
By David Ashworth

Updated
January surprise
The Reserve Bank of India (or RBI) reserves the right to announce monetary policy decisions in between policy announcements. The last scheduled monetary policy announcement by the RBI was on December 2, 2014. The cycle of monetary policy announcement for the Indian central bank is once every two months. The RBI was scheduled to announce its next policy stance on February 3, 2015.
Most analysts and market participants had expected the RBI to move on the repo rate in the February 3 announcement. So, what made the RBI move now, with less than a month to go before the scheduled announcement?
Article continues below advertisement
Falling inflation
The RBI monitors inflation closely, and it also keeps crude oil prices and food prices on its radar. The reasons for monitoring crude oil prices are given in our article Why crude prices are important to India's central bank. A fall in both of these led the consumer price index (or CPI) inflation down in recent months.
The CPI inflation for December 2014, which was released on January 12, 2015, showed a rise of 5.0% from a year ago. Although it rose from a 4.4% pace set in November 2014, it was below the RBI's target of 8.0% by January 2015.
The wholesale price index (or WPI) inflation rate for December 2014 was released on January 14, 2015. After showing no rise year-over-year in November 2014, it increased by 0.1% in December 2014 from a year ago.
Both of these releases made the RBI more confident about inflation's path. The RBI found little value in waiting for its scheduled policy announcement in February to reduce the repo rate. The move surprised equity markets (EPI) (PIN) (INDA), fixed income markets, and banks (IBN) (HDB).
In the next article, we'll explore why inflation is a key factor while the RBI is deciding the course of India's monetary policy.