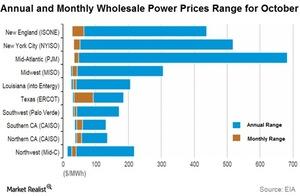 Wholesale electricity prices mirrors natural gas price
By Matt Phillips

Nov. 27 2019, Updated 7:28 p.m. ET
Prices at lowest range in a year
US wholesale electricity prices traded near the lower range of the last 12 months in October. Because wholesale electricity prices fluctuate on a daily basis based on demand and the supply of electricity, it trades within a fairly large range. Wholesale markets serve as a marketplace for energy companies seeking to buy and sell electricity.
Article continues below advertisement
Wholesale power prices
Most of the electricity auctioned in the wholesale markets is sourced from natural gas–fired power plants. Wholesale electricity prices in most of the regions across the US are highly correlated with wholesale natural gas prices, which also traded near one-year lows.
Electric Reliability Council of Texas (or ERCOT) markets saw the highest move in wholesale power prices from the low end of the monthly range in October. An unexpected heat wave during the month in Texas led to a rise in wholesale power prices. American Electric Power Company (AEP) and Center Point Energy (CNP) are major power companies operating in Texas.
As noted from the chart, the range is much higher in pure deregulated regions like New England, New York, and the Mid-Atlantic region. Northeast Utilities (NU) and PPL Corporation (PPL) operate in New England and the Mid-Atlantic, and the Utilities Select Sector SPDR (XLU) has exposure in both these companies.
With the exception of Texas, wholesale prices in all other US regions were low. Tepid electricity demand in the fall season and low natural gas prices dragged down wholesale electricity prices in October. Wholesale electricity prices should rise with the onset of winter in the US.