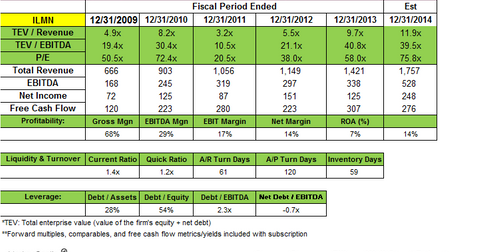 Viking Global Investors reduces its position in Illumina
By Adam Rogers

Updated
Viking Global amended its position in Illumina
Andreas Halvorsen's hedge fund firm, Viking Global Investors, filed a 13G with the SEC regarding its stake in Illumina (ILMN). As per the filing, Viking has disclosed a 5.8% stake in Illumina with over 8.18 million shares. The hedge fund has reduced its stake by 461,100 shares. The reduction is marginal, which suggests Viking Global is positive regarding the performance of Illumina.
Illumina stock accounts for more than 5% of the hedge fund's equity portfolio, making it the firm's largest holding and one of its top picks throughout 2014. As per its 3Q14 13F filings, Viking Global held 8.6 million shares.
Article continues below advertisement
Overview of the company
Illumina is a leading developer, manufacturer, and marketer of life science tools and integrated systems for the analysis of genetic variation and function. Using its proprietary technologies, it provides a comprehensive line of genetic analysis solutions, with products and services that address a broad range of highly interconnected markets, including sequencing, genotyping, gene expression, and genomic-based diagnostics.
Its customers include leading genomic research centers, academic institutions, government laboratories, clinical research organizations, and in vitro fertilization clinics, as well as pharmaceutical, biotechnology, agri-genomics, and consumer genomics companies. 
Analysts are bullish on Illumina
Both investors and analysts are confident in the future performance of Illumina, as the company announced a 15-year lease of a 360,000 square foot lab for a huge BioMed project in Foster City. In addition to this lab, the 3Q14 results also showed the company in a positive light and presented an optimistic full-year outlook for both top- and bottom-line growth.
The company will be launching a series of products that will help to expand its portfolio considerably. The stock price of Illumina has grown by over 71% in 2014 and Viking Global will likely benefit from holding on to the largest position in its equity portfolio.
Viking Global's other positions