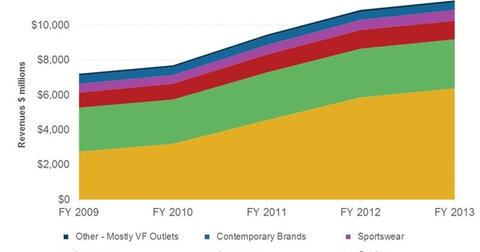 Why VF Corp.'s Brand Stable Is A Major Competitive Strength
By Phalguni Soni

Updated
Product portfolio
VF Corporation (VFC) has one of the most broadly diversified product portfolios consisting of ~35 brands. VFC brands have been developed in house as well as through acquisitions such as Timberland. You can read more about acquisitions in Parts 11 and 12.
Products are categorized in terms of their use and demographic appeal. The company classifies its brands based on groupings of businesses called coalitions. The company currently reports the following five coalitions:
Outdoor & Action Sports
Jeanswear
Imagewear
Sportswear
Contemporary Brands
Article continues below advertisement
Outdoor & Action Sports
Outdoor & Action Sports is VFC's largest coalition, accounting for 55.9% of revenues or $6.4 billion in 2013. Products in this category include sportswear, action sports apparel and equipment, other high-performance apparel and gear, backpacks, handbags, and more. Major brands in this category include The North Face, Vans, Timberland, and Lucy.
Jeanswear
VFC owns iconic American brands such as Wrangler and Lee. These are decades-old and enjoy high global brand recognition. VFC is number two in terms of worldwide market share for jeanswear, trailing Levi Strauss. Other brands in the coalition include Rustler and Timber Creek.
Article continues below advertisement
Imagewear
The Imagewear coalition includes occupational apparel such as security uniforms. VFC also has licensed athletic apparel for the National Football League (or NFL) and Major League Baseball (or MLB). VFC also sells licensed apparel from Harley-Davidson (HOG).
Sportswear
The company's Sportswear coalition includes the brands Nautica and Kipling. Nautica mostly retails fashion sportswear, sleepwear, and apparel. Kipling retails only in North America. Its products include handbags, luggage, backpacks, and accessories.
Article continues below advertisement
Contemporary Brands
The Contemporary Brands coalition consists of three premium brands. 7 For All Mankind sells denim and casual bottoms, sportswear, and accessories. Splendid and Ella Moss sell premium lifestyle apparel. While Splendid and 7 For All Mankind sell apparel for men, women, and children, Ella Moss sells apparel only for women and girls.
Brand strength
VFC competes with other firms with its various product coalitions. VFC brands are available in dozens of countries worldwide. The price points and styles appeal to a much wider geography and demographic, making the portfolio highly competitive against brands such as PVH Corp. (PVH), Columbia Sportswear (COLM), Fossil (FOSL), and The Gap (GPS), which aren't as diverse either geographically or product-wise.
Its sportswear and performance apparel products compete with global brands such as NIKE (NKE) and Adidas (ADDYY) as well as newcomers Under Armour (UA) and Lululemon Athletica (LULU).
VFC's 7 For All Mankind competes with other premium denim brands such as True Religion (TRLG) and Calvin Klein (PVH).