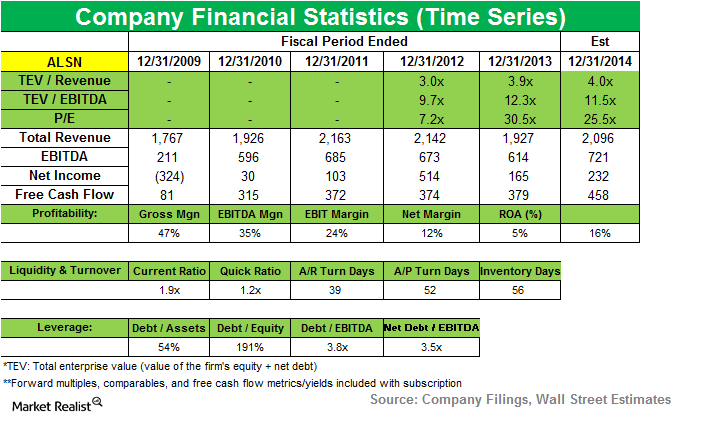 ValueAct raises its position in Allison Transmission Holdings
By Samantha Nielson

Nov. 27 2019, Updated 6:35 p.m. ET
ValueAct and Allison Transmission Holdings
Activist hedge fund ValueAct Capital amended its 13D filing on November 16. The document reveals that the fund owns 19,125,204 shares in Allison Transmission Holdings Inc. (ALSN). This accounts for an approximate 10.77% stake in the automotive company. The fund raised its position from 18,025,204 shares, according to its latest 3Q14 13F filing. The ALSN position was initiated in 3Q13 and accounted for 3.4% of the fund's total 3Q14 portfolio. Repeated position increases over the past few quarters indicates a bullish bias.
Article continues below advertisement
Overview of Allison Transmission Holdings
Allison Transmission Holdings is the world's largest manufacturer of fully automatic transmissions for medium- and heavy-duty commercial vehicles and medium- and heavy-tactical US defense vehicles.
Allison sells transmissions globally for use in medium- and heavy-duty on-highway commercial vehicles, off-highway vehicles, and equipment and defense vehicles.
Aside from selling transmissions, the company also sells branded replacement parts, support equipment, and other products necessary to service the installed base of vehicles using its transmissions.
Allison Transmission has 13 transmission product lines with over 100 different product models. Although approximately 77% of its 2013 revenues were generated in North America, the company also has a presence in Europe, Asia, South America, and Africa.
ValueAct and Allison Transmission sign cooperation agreement
In December, Allison Transmission and ValueAct signed a cooperation agreement that will govern ValueAct's investment in the automotive firm. The agreement includes an option for the appointment of ValueAct partner Gregory Spivy to the Allison Transmission board. A statement said the "option may be exercised by ValueAct Capital until 60 days prior to Allison Transmission's 2016 annual meeting of stockholders."
The agreement also includes customary "standstill" provisions that guarantee ValueAct won't submit any nominations for the board of directors or stockholder proposals, and that it will vote in favor of Allison Transmission's board nominees.
Article continues below advertisement
Third-quarter sales grew 19%
Allison Transmission posted a 19% increase in net sales in 3Q14, to $553 million. Continued recoveries in the North America on-highway and off-highway end markets, and higher demand in the service parts, support equipment, and other end markets drove the increase. This increase was partially offset by previously confirmed reductions in US defense spending.
In its 10Q, the company said that according to America's Commercial Transportation Research, "commercial truck and bus production volumes in its North American on-highway markets are projected to grow, but to remain below the 1998–2008 average production levels through 2015."
ValueAct's quarterly filings
The fund's latest 13D amendments include MSCI Inc. (MSCI), Allison Transmission Holdings (ALSN), Armstrong World Industries (AWI), and Rockwell Collins (COL).
The fund also updated its positions in Adobe Systems Inc. (ADBE) and Valeant Pharmaceuticals (VRX) via a Form 4 filed with the U.S. Securities and Exchange Commission. Notable new positions in 3Q were Agrium (AGU) and 21st Century Fox (FOXA). The fund exited a position in Dresser-Rand Group (DRC).
The next part of this series will discuss the fund's activist filing on Armstrong World Industries.