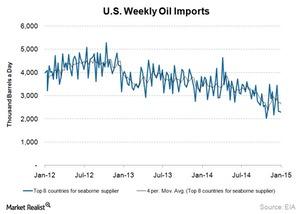 US top oil producer; crude imports decline
US energy
The United States has gained significant strength in energy production and is currently the top oil producer in the world, surpassing Saudi Arabia for the past two years. The US Energy Information Administration (or EIA), which tracks global energy production and consumption statistics.
The EIA notes that the US has produced more oil than Saudi Arabia since the fourth quarter of 2012, and the country's oil production surpassed Russia's output in 2011. The EIA further adds that US energy production is about evenly split between petroleum and natural gas, while Saudi Arabia primarily produces petroleum.
Article continues below advertisement
Declining oil imports
For the week ending January 2, 2015, US crude oil imports averaged at 6.9 million barrels per day (or bpd), a decline of 205,000 bpd from the previous week, according to EIA data. For the last four-week average as of January 2, 2015, crude oil imports into the US averaged 7.3 million bpd, 4.6% lower than same period in 2013, indicating high use of domestically produced oil than imported oil.
Domestic production
For the week ending January 2, 2015, the US recorded an average 9.13 million bpd, as compared to 9.12 million bpd recorded on December 26, 2014, and 8.15 million bpd for the same week in 2013. Domestic production levels are at historically high levels, while imports are at their lowest levels for more than a decade. The surge in production has contributed significantly to the steep fall in crude prices.
Article continues below advertisement
Current market update
The United States's production growth has contributed to its ability to produce more oil than it imports for the first time in about 20 years. The Energy Information Administration expects American production to continue to grow in 2015, despite recent lower crude oil prices. Crude tanker stocks such as Frontline Ltd. (FRO), Teekay Tankers (TNK), Nordic American Tanker (NAT), and Tsakos Energy Navigation (TNP), as well as the Guggenheim Shipping ETF (SEA), may be affected negatively by rising production.
Keystone XL pipeline
Meanwhile, there is a current debate for building the Keystone XL pipeline. The US House of Representatives voted 266-153 to pass its bill to approve Keystone, a vote that included 28 Democrats. The Senate will take up its own bill, which is also expected to pass. However, President Obama has promised to veto the bill, and a veto-proof majority in Congress is still uncertain. This pipeline extension would stretch from Canada to Steele City, Nebraska, where it would connect with an existing pipeline that extends to the coast of Texas at the Gulf of Mexico.