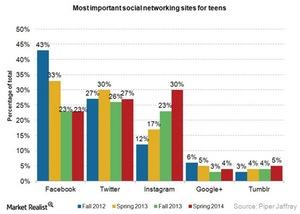 Why US teens leaving Facebook isn't a major concern
By Patricia Garner

Updated
US teens are leaving FB for other mobile apps
Facebook (FB) is losing lot of its teenage demographic, as teens find the social networking site more mature now and are moving to other popular sites like Instagram, Snapchat, and WhatsApp. Teenagers generally use social networking sites to interact with their peers and network within their known networks. Millions of teens have left Facebook since 2011, as they find other sites more attractive.
Based on the results of Piper Jaffray's latest teen survey, in less than two years, the share of teens who picked Facebook as the top social media service in their lives has nearly halved, from 42% to 23%, while Twitter's (TWTR) share remained almost the same before it was overtaken by Instagram. Since the fall of 2012, the number of teens who used Instagram has more than doubled, from 12% to 30%.
This isn't the first time analysts are reporting a fall in teenage use, but as Facebook's CEO stated in the company's call, Facebook has so deeply penetrated into the lives of US teenagers now that they have nowhere to grow.
Article continues below advertisement
Facebook's acquisition of WhatsApp and Instagram eases tension
Teenagers are moving from Facebook's core site to other businesses like WhatsApp and Instagram, but this isn't a troublesome situation for Facebook since the company has now acquired both WhatsApp and Instagram. This helps to sustain its ever-growing user base.
However, Facebook can look for other organic ways to retain this demographic segment, as it provides a very important market for advertisers.
Similarly, Twitter (TWTR) acquired Vine and Yahoo (YHOO) acquired Tumblr to ensure that that they don't lose their teenage demographic as their core sites mature. Google + (GOOG)(GOOGL) has seen minimal uptake compared to its rivals.