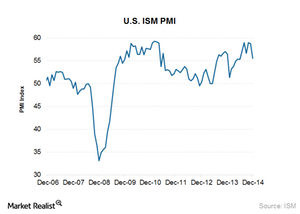 Why US PMI data are different from the rest of the world's?
By Anuradha Garg

Updated
What is ISM PMI?
The Institute for Supply Management's (or ISM) manufacturing Purchasing Managers' Index (or PMI) gauges the factory sector in the United States. The PMI is based on a monthly survey of purchasing managers in the private sector. A number above 50 indicates expansion, and a number below 50 indicates contraction. The number 50 indicates no change.
It's important to track the PMI while keeping an eye on the manufacturing index for other economies, usually the ones that impact the US dollar the most. The difference between the two sets of information yielded by these indices indicates the strength of the dollar.
Article continues below advertisement
This in turn gives a cue about the direction of gold prices and gold-backed ETFs such as SPDR Gold Shares (GLD) and gold stocks, including Goldcorp (GG), Newmont Mining Corporation (NEM), and Barrick Gold Corporation (ABX). ETFs that invest in the above stocks, including the Gold Miners ETF (GDX), are also influenced by the dollar.
US PMI strong but slowing
The United States' December PMI slowed down from last month's 58.7, but it's still relatively strong at 55.5. The rate of growth in PMI has slowed in recent months.
Article continues below advertisement
Rest of the world's PMI is stagnant
The Eurozone manufacturing sector ended 2014 on a subdued note as rates of growth for output, new orders, and employment continued to track close to stagnation. At 50.6 in December, the final seasonally adjusted Eurozone Manufacturing PMI was up slightly from November's low of 50.1 but edged down from the flash estimate of 50.8.
According to data compiler Markit, downturns continue in France and Italy, and German output growth remains modest. Germany's performance remained subdued, although there were some positive signs as its PMI rose back above the 50.0 no-change mark to 51.2 in December.
China's HSBC/Markit manufacturing PMI touched a seven-month low of 49.6. This indicates that China's economic growth is slowing. Qu Hongbin, chief economist for China at HSBC, said in a note, "Data suggested that the decline was largely driven by softer domestic demand, as new export work rose for the eighth month in a row and at a slightly quicker rate than in November."
Stronger US data relative to other economies usually leads to a stronger US dollar, which is negative for gold.