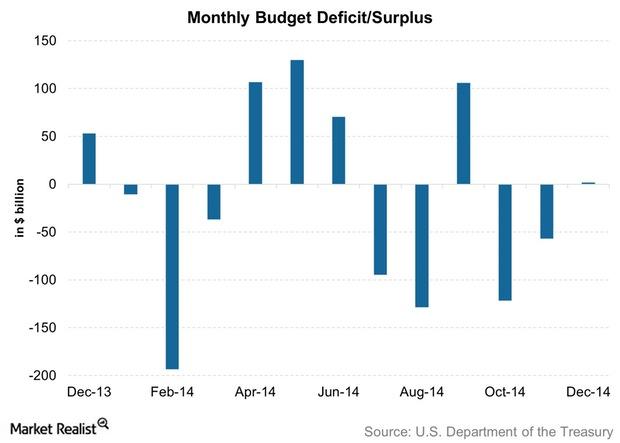 The US budget balance reported a surplus in December 2014
Surplus reported
In the US, the budget balance reported a surplus for December 2014. It reported a shrinking deficit the previous month. The surplus was $1.9 billion for December 2014. The deficit for November 2014 was $56.8 billion. Last year, the surplus was $53.2 billion.
The surplus and deficit figures are released by the US Treasury in the Monthly Treasury Statement, or MTS. The statement gives you an overview of the federal government and off-budget federal entities' financial activities.
The MTS provides information on the government's receipts and outlays, surplus or deficit, and means of financing. A surplus occurs when the government's outlays are less than its receipts.
Article continues below advertisement
Why is it important?
Knowing the budget balance is important because a large budget deficit can increase the national debt. As a result, a higher percentage of the country's income will need to be used to pay interest on the debt.
The budget deficit for the fiscal year ending in September 2014 was $483 billion—or 2.8% of the gross domestic product, or GDP. For the US Treasury, a fiscal year begins in October and runs through September of the next year. In 2009, the budget deficit increased to nearly 10% of the GDP.
For fiscal year 2015, the Congressional Budget Office expects the deficit to reduce to 2.6% of the GDP—according to a release in August 2014. So far, in this fiscal year, the budget balance is in a deficit. The budget deficit is $176.7 billion.
Details
For December 2014, the highest budget receipts came from individual income taxes—$145.03 billion. The highest budget outlays were from the Department of Health and Human Services—$88.60 billion.
Unlike retail sales, a budget deficit doesn't directly impact companies or ETFs. However, a reduction in the budget deficit signals improving government finances. This is good for the economy.
It would benefit broad-based equity ETFs—like the SPDR S&P 500 ETF (SPY), the SPDR Dow Jones Industrial Average ETF (DIA), and the iShares Core S&P 500 (IVV). Fixed income ETFs—like the iShares Barclays 20+ Year Treasury Bond Fund (TLT) and the iShares Barclays 7-10 Year Treasury Bond Fund (IEF)—also track this report.
In the rest of this series, we'll analyze the Treasury bills, or T-bills, auction last week.