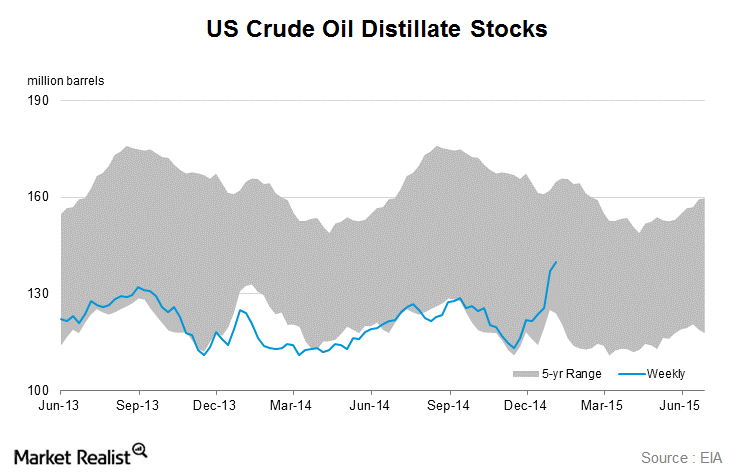 Update: Distillate inventory movement
Distillate inventories
Distillates, which include fuels such as heating oil and diesel, are important fuels for transportation and heating. Like gasoline, distillates require crude oil to be processed.
Also like gasoline, distillate demand and stock levels drive crude demand and crude prices. As a result, energy investors keep a close watch on distillate inventories. They provide a useful snapshot of distillate demand and supply trends, particularly near and during the winter months, when heating demand can drive energy demand.
Distillate stocks increased by 2.9 MMbbls (million barrels) to 139.9 MMbbls. This is the highest level since February 2014. Analysts had expected inventories to increase by ~1 million barrel.
Inventories are now in the middle of the five-year range.
Article continues below advertisement
Diesel production and demand
Distillate production decreased from ~5.18 MMbbls per day to ~5.10 MMbbls per day last week. Demand increased from ~2.86 MMbbls per day to ~3.94 MMbbls per day in the previous week.
Because production decreased and demand increased, this suggests that inventories should have declined. Net changes in exports could be the reason for the inventory build.
An inventory build is bearish for distillate prices. And negative prices are bad for major refiners including Valero Energy (VLO), Phillips 66 (PSX), Marathon Energy (MPC), and HollyFrontier Corporation (HFC). Lower prices are also bad news for the Energy Select Sector SPDR Fund (XLE), which holds many of these refiners.
Outlook for distillate demand
In its January short-term outlook, the U.S. Energy Information Administration, or EIA, uses forecast assumptions about economic growth to estimate that in 2015, US distillate consumption will increase by 60,000 bpd (barrels per day) to 4.06 million bpd, or by 1.5% over 2014 levels.
The EIA estimates that the US consumed 4 million bpd of distillates in 2014.
The following part of the series looks at the movement in Cushing inventories last week.