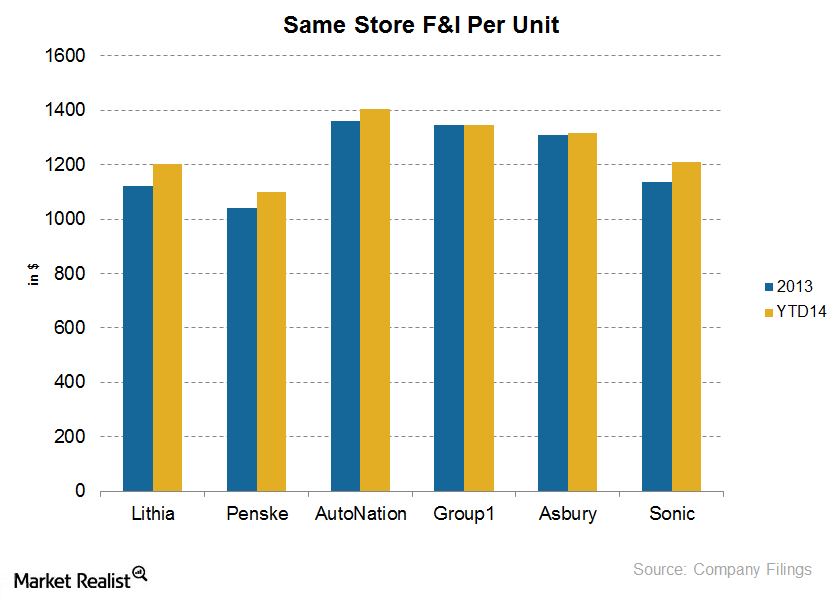 Understanding Lithia Motors's Finance and Insurance business
By Santiago Solari

Jan. 27 2015, Updated 2:18 p.m. ET
Overview of F&I operations
The last few articles discussed the prevailing market conditions for new and used vehicles, as well as Lithia's (LAD) financial performance in those markets. In the next two articles, we'll look at the Finance and Insurance (or F&I) and Service operations. We'll also explore the opportunities that exist in these areas of Lithia's business operations.
F&I products make a significant contribution to increasing repeat business and service retention. Lithia's offerings under F&I include arranged third-party financing for vehicle sales, service contracts, and lifetime lube, oil, and filter services (or LOF).
Article continues below advertisement
Lithia earns commissions for arranging third-party financing of the sale or lease of new and used vehicles. In the nine months ending September 30, 2014, Lithia was able to arrange financing for its customers on 79% of the vehicles sold.
Service contracts includes vehicle insurance and providing repairs beyond the duration or scope of the manufacturer's warranty. Service contracts had a penetration of 43% of the vehicles sold during the nine months ending September 30, 2014.
Under LOF contracts, customers prepay to obtain services for engine maintenance. LOF contracts had a penetration rate of 35% among Lithia's customer base.
Although F&I represents ~4% of the company's revenues, it contributes to 23% of total gross profit. Gross margin for this business is typically 100%, as the only costs involved are chargebacks if a financing arrangement is cancelled, as well as refunded profits related to the sale of aftermarket contracts in the event of an early cancellation.
F&I per retail unit is below peer average
Lithia's same-store revenue grew 16.9% year-over-year to $120.4 million in the nine months ending September 30, 2014, driven by increased vehicle sales. F&I per unit increased by $95 to $1,203 during the same period. According to management, new vehicle F&I per unit is ~$1,400 and used vehicle F&I per unit is about $1,000 a unit. F&I per unit of the peer group averages $1,264.
Autonation (AN) leads the pack, followed by Group 1 (GPI) and Asbury Automotive Group (ABG), with an F&I per unit above $1,300. With an F&I per unit of $1,100, only Penske (PAG) lags behind Lithia (LAD). This is mainly due to Lithia's used-to-new–car ratio of 1:1, compared to most of its peers. Lithia's peers have a used-to-new–car ratio of about 1:2, which allows them to earn more commissions.
Business growth
Lithia's growth depends not only on the demand for light vehicles, but also on the availability of credit. Lithia's subprime customer base that attained arranged financing was 12% in the nine months ending September 30, 2014, compared to the national average of 20%. This disparity is due to the markets where Lithia operates, which tend to have a higher unemployment rate. Lithia management believes that a recovery of these affected markets is essential for improving that figure.