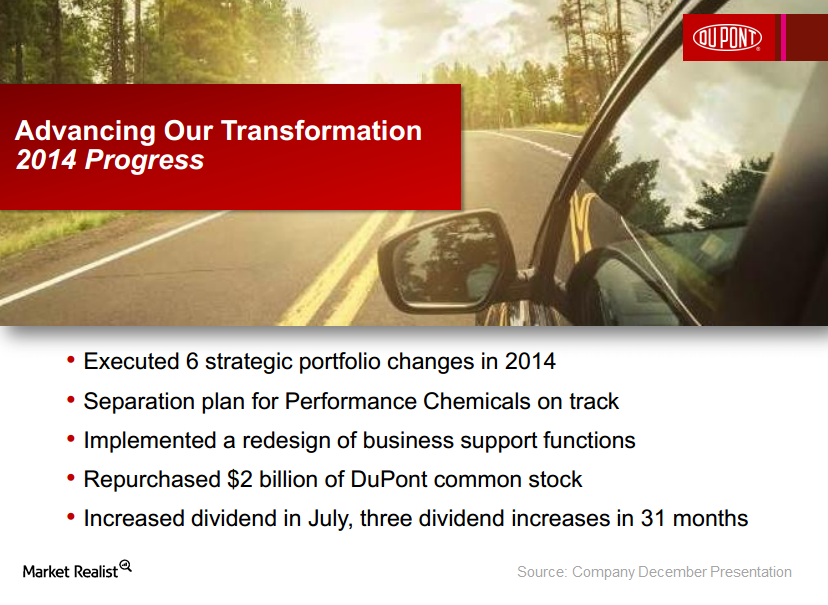 Trian initiates a proxy fight with DuPont
Trian seeks to gain four DuPont board seats
Activist hedge fund Trian Fund Management is pushing for a separation of DuPont's (DD) growth and cyclical businesses. The chemical company's conglomerate structure was seen as destroying value. DuPont is resisting the fund's overtures and defending its existing structure. So last month, Trian launched a proxy fight with DuPont and nominated four directors to DuPont's board.
In a Trian release, the fund stated that it has "nominated four highly qualified candidates for election to the DuPont Board of Directors at the 2015 Annual Meeting of Stockholders." The nominees include Nelson Peltz, chief executive officer and a founding partner of Trian.
Article continues below advertisement
DuPont's restructuring targets $1 billion cost savings
Since 2012, the 212-year-old DuPont has been undergoing a restructuring under its CEO Ellen Kullman. The company responded to Trian's board nominations by stating that its team has "proactively refined the portfolio around three strategic priorities, including the separation of the Performance Chemicals division and seven previous divestitures." It believes it's "on track with its enterprise-wide redesign initiative, which will enhance organizational agility and operational efficiency and significantly reduce costs to align with its refined portfolio of businesses." DuPont said the "initiative will contribute at least $1 billion in savings."
Shareholder activism has prompted some chemical companies to undertake restructuring. In 2013, DuPont and its peers Dow Chemical (DOW), Ashland Inc. (ASH), Lanxess (LXS), Chemtura Corp. (CHMT), and Rockwood Holdings, Inc. (ROC) were involved in portfolio restructuring. Some of these restructurings were pushed by hedge fund investors. Dan Loeb's Third Point Partners urged Dow Chemical to accept a possible spinoff of the petrochemicals business and consider a share buyback plan.
DuPont is selling its performing arts theater
DuPont recently sold the DuPont Theatre, a performing arts theater, along with its related assets and the lease of the building to The Grand Opera House. A statement from DuPont this month said the company will continue to manage the theater until the transaction closes. After the sale is finalized, the theater will be renamed The Playhouse on Rodney Square.
Trian's September letter highlighted $2–$4 billion of excess corporate costs at DuPont. The fund noted $1 billion of publicly disclosed unallocated corporate expenses that included the maintenance of a country club, a 1,252-seat theater, and a 217-room hotel. DuPont is open to selling its club and hotel assets for a suitable price, according to news reports.
Trian also said it believes the DuPont board "has not held management accountable for continuing underperformance and repeated failures to deliver publicly stated revenue and earnings targets."
We'll find out more about this in the next part of this series.