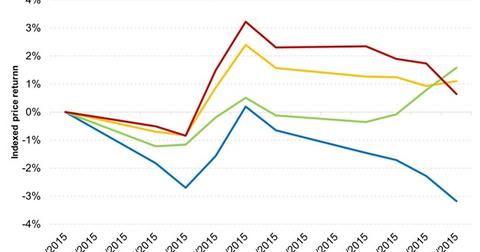 Why Traditional Low-Beta Sectors Provide Relative Safety
By Russ Koesterich, CFA

Jan. 30 2015, Updated 1:06 p.m. ET
The "Semi-Safe" Havens: Instead of opting for traditional safe havens, investors looking to limit their downside but still generate some yield should consider the following list of potential "semi-safe-havens."
1.)    Traditional Low Beta Sectors:
Even during the recent downturn, the traditional low beta (a measure of the tendency of securities to move with the market at large) sectors – consumer staples, healthcare, utilities and telecommunications – have provided some cushion.
Article continues below advertisement
Market Realist – Traditional low-beta sectors provide relative safety.
The graph above compares the performance of the S&P 500 (SPY)(IVV) with three defensive sectors: consumer staples, the utilities, and healthcare, as tracked by the Consumer Staples Select Sector SPDR ETF (XLP), the Utilities SPDR ETF (XLU), and the Health Care SPDR ETF)(XLV), respectively, for the period of volatility in the broader markets earlier this month.
In that period, the S&P 500 gave negative returns of 3.2%. Yet the three defensive sectors provided cushion, with positive returns of 1.1%, 1.6%, and 0.6% respectively. Bear in mind, though, that these sectors may not always provide positive returns when the broader markets are falling. The key point is that they provide relative safety when markets aren't rosy. In other words, they're likely not to fall as much as the market if they do fall.
Defensive sectors usually have low beta. In other words, they underperform when the broader markets are performing well and vice versa.
However, as they're still equities, they're riskier than the safe havens we discussed in the earlier parts of this series.
Also, defensive sectors appear quite expensive at the moment, quite like the Treasuries we discussed earlier.
The next part of this series explains another semi-safe haven strategy within equities.