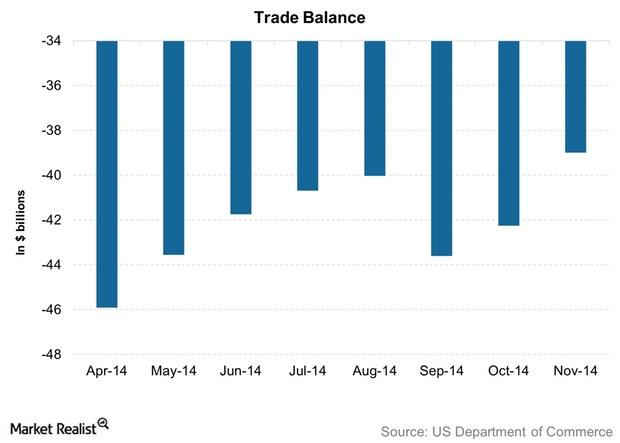 Why the trade deficit fell in November
Trade balance
The United States is a net importer of goods and services. That means it maintains a deficit in external trade. Trade balance is calculated by subtracting the value of imported goods from the value of exported goods. If the resulting number is positive, which means that the value of exports are more than imports, then there is a surplus. Otherwise, a deficit is reported.
A rising trade deficit is negative for broad market ETFs such as the SPDR S&P 500 ETF (SPY), the SPDR Dow Jones Industrial Average ETF (DIA), and the iShares Core S&P 500 (IVV). This is because a trade deficit generally indicates either slowing exports or increasing imports, both of which are bad for an economy.
Article continues below advertisement
On the other hand, a falling deficit is negative for ETFs such as the SPDR Gold Shares (GLD) and the Gold Miners Index (GDX). Although there is no linear relationship between trade deficit and gold prices, a falling trade deficit eases pressure on the US currency in the long run, which negatively impacts gold prices.
November deficit falls
The US trade deficit fell by $3.2 billion to $39.0 billion in November. The October deficit was revised downward to $42.2 billion from $43.4 billion reported earlier. November's exports stood at $196.4 billion, while imports were recorded at $235.4 billion. However, in the 11 months to November 2014, the deficit increased $22.3 billion, or 5.1%, from a year ago.
The primary reason for the fall in the monthly deficit was a sharp decline in imports. Imports fell $5.2 billion from October's level, which was revised lower at $240.6 billion from $241 billion reported earlier. Meanwhile, exports fell in November. Exports were lower by $2.0 billion from October's level, which was revised downward to $196.4 billion from $197.5 billion reported earlier.
Article continues below advertisement
Crude oil imports fall in quantity and value
The import of petroleum products continued to drop in November. Specifically, crude oil imports fell both in quantity and value. The United States imported 188,873 barrels of crude oil in November 2014, down from 212,742 barrels a year ago. On a nonseasonally adjusted basis, from January to November 2014, the United States imported crude oil worth $228.2 billion, while imports for the same period a year ago were $251.8 billion.
The fall in crude oil imports has been due to domestic oil production through fracking from shale. This has helped reduce US dependence on foreign oil imports. The decline in oil prices this year has also helped control the oil bill.
Surpluses and deficits
On a seasonally adjusted basis for November 2014, the United States had trade surpluses with the South and Central American region ($4.3 billion) and Brazil ($0.6 billion). It had a surplus of $0.3 billion with the United Kingdom in October 2014, but it turned to a deficit of $0.2 billion in November 2014. Meanwhile, its largest deficit is with China ($29.8 billion).
In the next article, we'll explore a report that gives important insights into the health of US manufacturing.