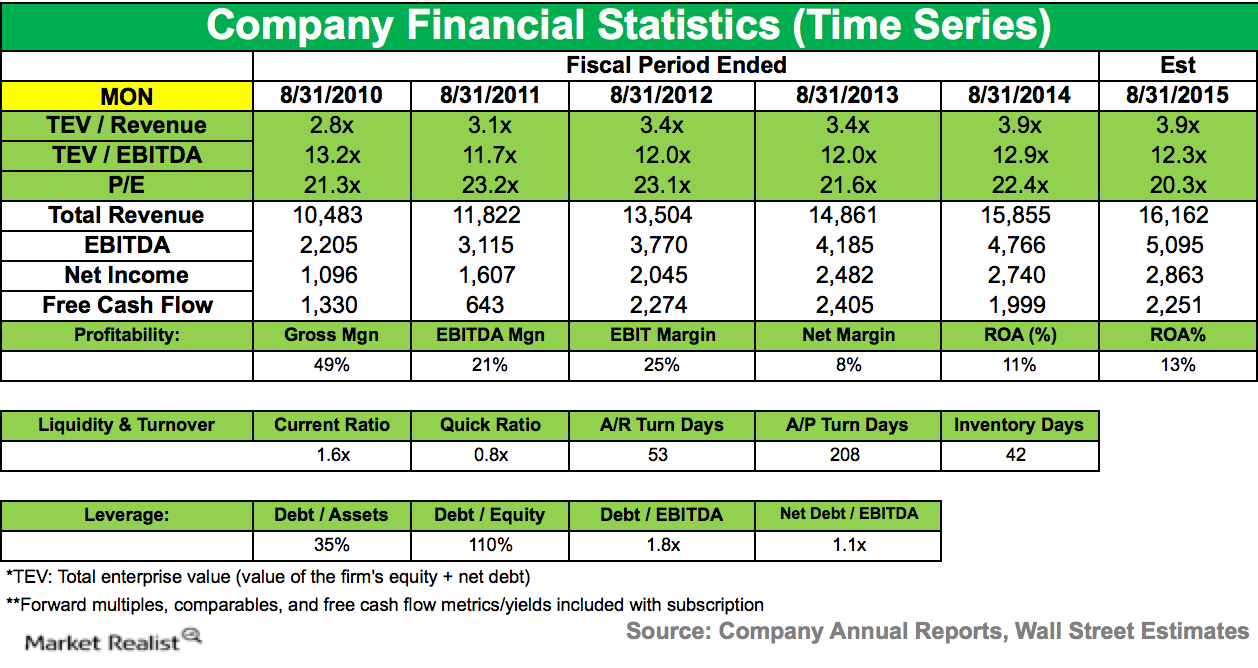 TPG-Axon raises position with Monsanto
By Diana Key

Aug. 18 2020, Updated 5:24 a.m. ET
TPG-Axon and Monsanto
TPG-Axon raised its position in Monsanto (MON) during 3Q14. The stock accounts for 5.35% of the total portfolio, up from 2.12% of the fund's 2Q14 portfolio.
Article continues below advertisement
Monsanto overview
Monsanto is a leading global provider of agricultural products. Its products help farmers to improve productivity, reduce the costs of farming, and produce better foods for consumers and better feed for animals. It operates in two business segments:
Seeds and genomics: Monsanto produces seed brands that include DEKALB, Asgrow, Deltapine, Seminis, and De Ruiter. It also develops biotechnology traits that assist farmers in controlling insects and weeds. The company develops precision agriculture to help farmers make decisions. It also provides other seed companies with genetic material and biotechnology traits for their seed brands.
Agricultural productivity: Monsanto manufactures the Roundup and Harness herbicide brands, as well as other herbicides.
1Q15 results saw decline
Monsanto acknowledged headwinds in the current agricultural environment. The company witnessed lower planted acres for corn in South America and for cotton in Australia. As a result, net sales decreased 9% year-over-year (or YoY) to $2.9 billion.
Net income declined YoY 34% to $243 million. Diluted earning per share (or EPS) on an ongoing basis declined YoY 30% to $0.47, which was ahead of its expectation of ~$0.34.
Article continues below advertisement
Key milestones in 1Q15
Intacta RR2 PRO drove strong soybean results. The product is projected to exceed its 10-12 million acre target.
Monsanto received United States Department of Agriculture (or USDA) recommendations for deregulation for both Roundup Ready Xtend soybeans and Bollgard II XtendFlex cotton. It is now close to planned launches of these products.
Continued acre shifting as soybeans are well ahead of the prior year pace, while corn is tracking at a slower pace.
Reinforced 2015 outlook
With the significant progress on the above-mentioned milestones in 1Q15, Monsanto confirmed its fiscal year 2015 ongoing EPS guidance of $5.75 to $6.00. As the company expects lower global corn acres in the future, it anticipates the 2Q15 ongoing EPS to be down in the range of 5% to 10% versus 2Q14.
TPG-Axon's notable positions traded in 3Q14
TPG-Axon started new positions in Alibaba Group Holding (BABA), Zynga (ZNGA), and Allison Transmission Holdings (ALSN). The firm raised its positions in GNC Holdings (GNC) and Monsanto Co (MON), and it exited positions in Time Warner (TWX) and Equinix (EQIX). TPG-Axon lowered positions in SandRidge Energy (SD).
In the next part of this series, we will look at TPG-Axon's position in Time Warner.