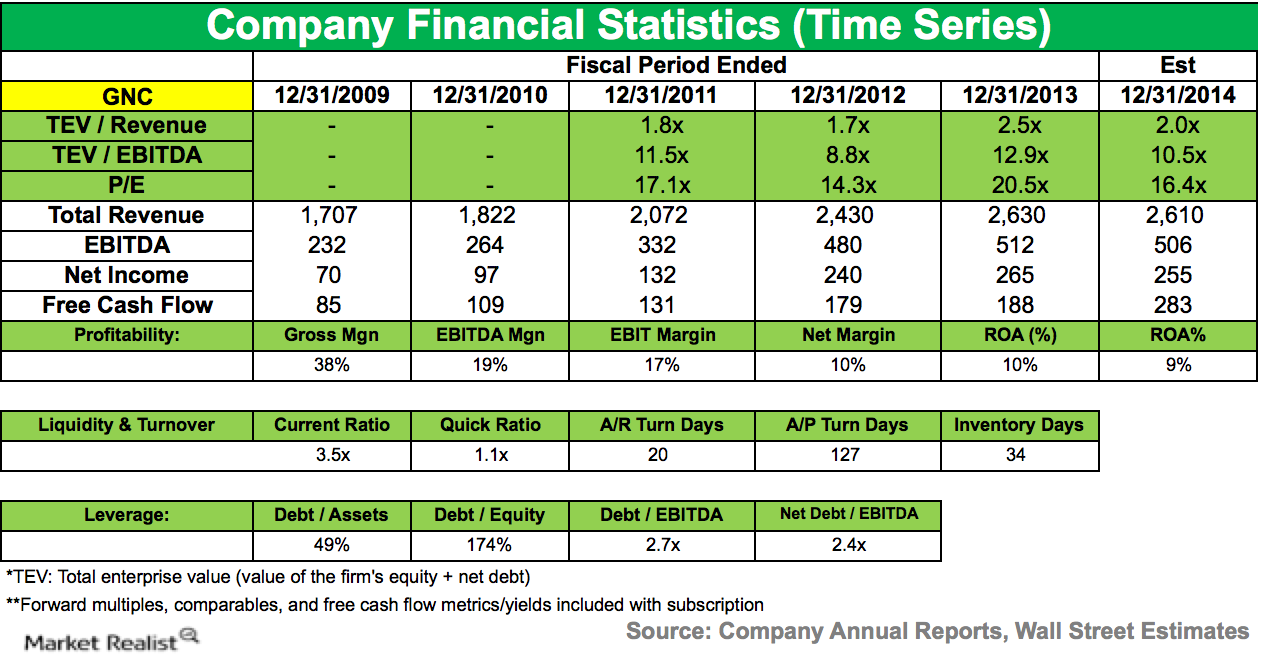 TPG-Axon raises position in GNC Holdings
By Diana Key

Nov. 20 2020, Updated 2:28 p.m. ET
TPG-Axon and GNC Holdings
TPG-Axon increased its position in GNC Holdings (GNC) during 3Q14. The stock accounts for 18.83% of the total portfolio, up from 9.65% of the fund's 2Q14 portfolio.
Article continues below advertisement
About GNC Holdings
GNC Holdings is a leading global specialty retailer of health and wellness products, including:
vitamins
minerals
herbal supplement products
sports nutrition products
diet products
The company operates a diversified, multichannel business model that earns revenue from product sales through:
company-owned retail stores
domestic and international franchise activities
third-party contract manufacturing
e-commerce
corporate partnerships
As of September 30, 2014, GNC had more than 8,800 locations. Over 6,500 of these locations are retail locations in the US.
3Q14 revenue missed estimates
For 3Q14, GNC reported consolidated revenues of $656.3 million. This was a decrease of 2.7%, compared to $674.5 million for 3Q13. Revenue fell in each of the company's segments:
Retail revenue fell by 1.4% due to negative same-store sales
Franchise revenue fell by 3.1% due to fewer wholesale product sales from international franchise operations
Manufacturing and wholesale revenue fell by 11.4% due to lower third-party contract manufacturing revenue
In 3Q14, same-store sales—as measured on a product-only basis—decreased 6.9% in domestic company-owned stores, including GNC.com. In contrast, these sales increased by 8.2% in 3Q13. Same-store and GNC.com sales decreased 5.8% in domestic company-owned stores in 3Q14, including the sales of the Gold Card, which GNC offered to customers free of charge during the member pricing launch in May and June 2013. In domestic franchise locations, same-store sales decreased 4.5% in 3Q14.
For 3Q14, GNC reported generally accepted accounting principles (GAAP) net income of $64.3 million. Adjusted diluted earnings per share were $0.75, compared to $0.76 in 3Q13.
Article continues below advertisement
GNC PUREDGE
On November 24, 2014, GNC launched its GNC PUREDGE line of health, wellness, and performance supplements, which are based on whole foods. These products don't have any GMOs (genetically modified organisms), added ingredients, or gluten-added ingredients.
TPG-Axon's notable positions traded in 3Q14
TPG-Axon started new positions in Alibaba Group Holding (BABA), Zynga (ZNGA), and Allison Transmission Holding (ALSN). It raised positions in GNC Holdings (GNC) and Monsanto Co (MON). It exited positions in Time Warner (TWX), and Equinix (EQIX). It reduced its positions in SandRidge Energy (SD).
In the next part of this series, we will explore TPG-Axon's position in Monsanto.