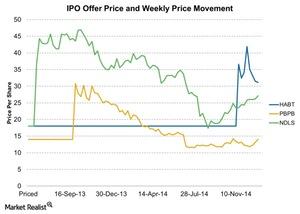 Things To Keep In Mind About Shake Shack's IPO
The IPO offer
Shake Shack (SHAK) filed for an initial public offering, or IPO, for $100 million through Class A common stock. The question is whether you should bite it. Below are some of the key points to note. This will help you decide.
In the above chart you can see that all three stocks popped on the opening day. However, the stock prices declined over the months. For Potbelly (PBPB) and Noodles & Co. (NDLS) the prices have also dipped below the offer price.
Several of the restaurants are part of the Consumer Discretionary Select Sector SPDR (XLY). It also includes big names—like McDonald's (MCD) and Yum! Brands (YUM).
Article continues below advertisement
What you should keep in mind
There's certainly excitement among restaurant stock investors. If want to invest in Shake Shack here's a list of things that you should keep in mind:
Shake Shack's same-store sales growth declined in 2013 and for the 39 months ending in 3Q14. So, existing restaurants are generating less revenues.
Management expects revenue growth from unit developments. It plans to add ten company-operated units in 2015 and beyond. So, you will have to be patient until these locations become operational and generate revenues.
Although Shake Shack has lower food, labor, and occupancy costs compared to some of its peers, its net income declined to $3.5 million. It was $4.4 million for the 39 months ending in 3Q14. An increase in food costs hurt the profits. There's nothing management can do to control these costs. It can increase the menu prices, but that would only hurt its already low same-store sales. Customers could get spooked by the price increase.
It's easy to jump into the hype. However, not all IPOs are hot. This can cause a severe head wind. It can dent your investment objective. You can see this in the above chart.
The company and its underwriters haven't determined the price and date for Shake Shack's listing. It's important to remember that investing in an IPO isn't easily accessible for a retail investor. Also, IPOs have a lock-in period. You can always wait and see how the company performs. You can make an investment decision when more information is available.
To read more articles on the restaurant industry, visit Market Realist's Restaurants page.