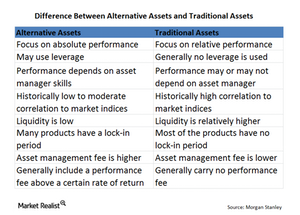 The defining aspects of alternative assets
By Saul Perez

Updated
How are alternative assets defined?
Defining alternative assets accurately is difficult. That's because alternative asset investment is a relatively new practice, and so, consensus is hard to find. This is particularly true because any definition seems to depend on what purpose alternative assets are being used for.
On a broad level, alternative assets are defined by exclusion. In other words, all investments that aren't solely long positions in traditional assets can be called alternative assets.
Article continues below advertisement
What can't be considered an alternative asset?
Conversely, any long position in traditional financial assets—equities, fixed income, or cash—can't be considered an alternative asset. Holding the stock of a company such as BlackRock (BLK), The Blackstone Group (BX), or Invesco (IVZ) doesn't qualify as holding alternative assets. Neither does holding a unit of the SPDR S&P 500 ETF Trust (SPY) or the iShares Core S&P 500 ETF (IVV).
An important feature of alternative assets is that they're actively managed. The manager of an alternative asset fund doesn't seek to replicate the returns of popular indices like the S&P 500. Instead, the fund manager often tries to outperform such indices or acts according to the mandate of the fund. In some cases, an alternative asset fund manager may be mandated to deliver positive returns in all market conditions.
Another important feature to keep in mind is that alternative assets carry risks that are different and generally higher than those of traditional assets.
Many exchange-traded funds that focus on alternative assets are now available. These ETFs aim to replicate the returns of a designated index of alternative assets. Regardless, the alternative asset funds that make up these ETFs are actively managed.
Now that we have a fair understanding of what an alternative asset is, let's look at the various types of alternative asset management products.