3. The cost of the defensive strategy.
Finally, it's important not to overpay while seeking safety. Insurance is a wonderful thing, but if the cost of the premium is too high, you may be better off accepting the risk. Today, some of the defensive sectors, such as utilities and consumer staples, are expensive, meaning you may be paying a very large premium to get only short-term risk mitigation. In my opinion, this may not be worth it. In a similar way, investors often overpay for a hedge. This is particularly risky at a time when unconventional monetary policy is still distorting pricing in many asset classes.
In short, defensive companies and sectors play a vital role in a portfolio. That said, defensive companies are not a free lunch.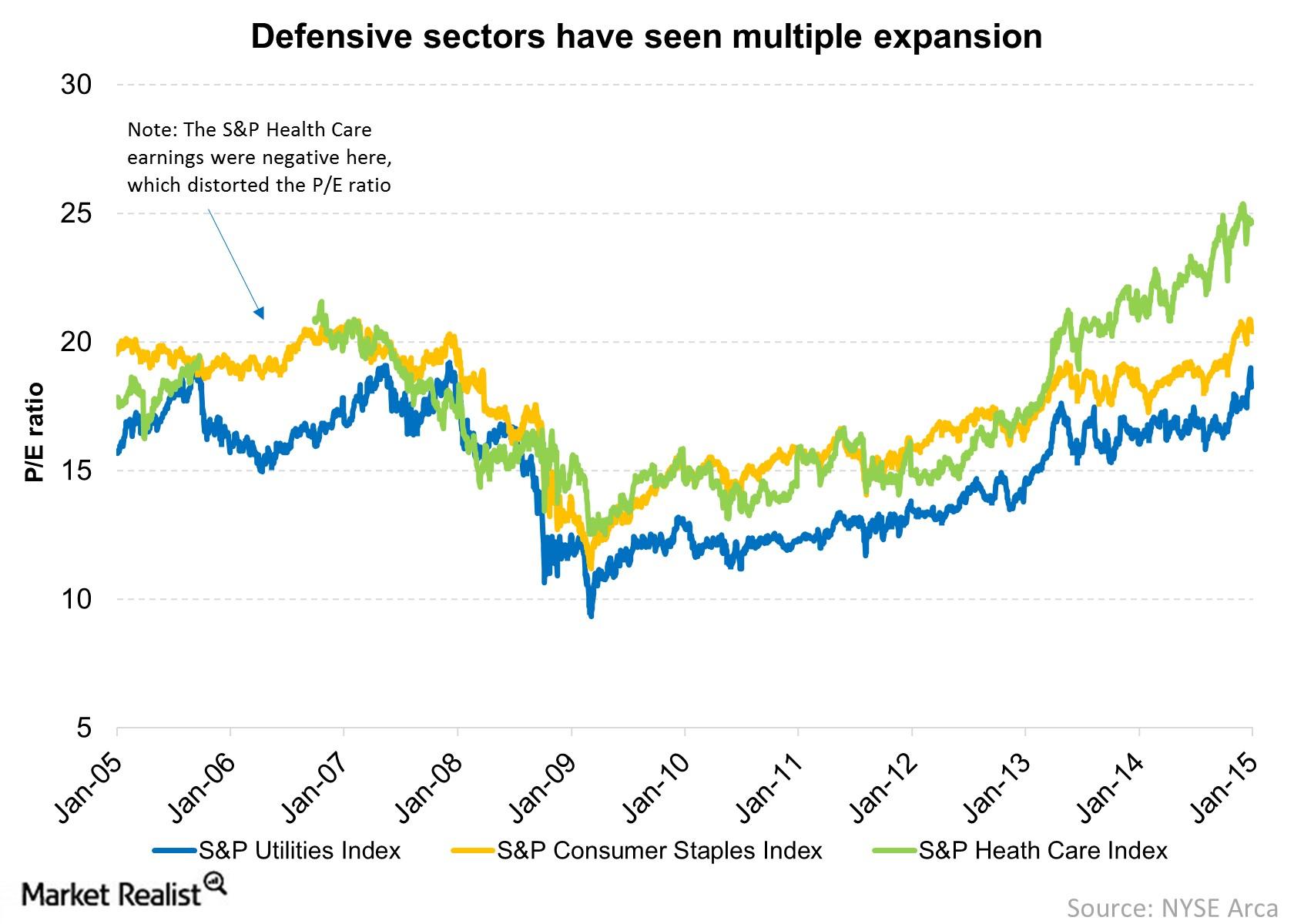 Article continues below advertisement
Market Realist – Defensive sector run-up causes cost of defensive strategy to rise
The graph above shows the PE (price-to-earnings) ratio for the S&P Utilities Index, the S&P Consumer Staples Index, and the S&P Health Care Index for the last ten years. All three defensive sectors have run up over the past few years. The health care sector (XLV), in particular, appears quite rich, trading at 24.6x earnings. The consumer staples (XLP) and the utilities (XLU) sectors are cheaper than the heath care sector, trading at 20.4x and 18.3x their respective earnings.
These are lofty valuations, especially considering the fact that the US GDP growth rate is gaining momentum. When economic growth picks up, cyclical sectors like the financials (XLF) and technology (QQQ) benefit. The case for the financials is even stronger with the sector trading at 14.8x earnings.
Read our series on When Defensive Stocks Are No Longer Defensive for more on the defensive sector.