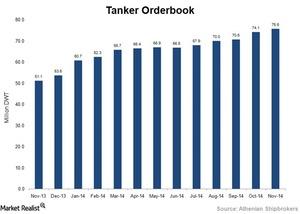 The tanker market amid the global economy
By Katie Dale

Jan. 16 2015, Updated 8:57 p.m. ET
World economy
The world economy fundamentals affect the tanker industry. With crude oil seaborne imports to the US being affected, shale oil and tar sand oil projects are also likely to affect the US and Canadian oil sector in the near future. Amid falling oil prices, these projects are vulnerable.
In terms of transportation work, or ton miles, the reduced imports to the US are more than outweighed by the increased imports to the Far East. The economies of the Far East generally show continuing growth, although at a slower pace than before. European economies continue to run significant fiscal deficits.
Article continues below advertisement
Suezmax tanker market status
As the supply of vessels increases in the shipping market, the newbuilds entering the markets affect the tanker market rates. However, scrapping of vessels impacts supply, and vice versa. The Suezmax fleet, excluding shuttle tankers, stood at 445 vessels at the end of the third quarter of 2014, indicating the fleet has decreased this year.
Following a number of orders in recent months, the current orderbook stands at 54 vessels from now to mid-2017. This represents about 12% of the Suezmax fleet. In 2009, the orderbook was over 50% of the existing fleet. At the end of the third quarter of 2014, the orderbook for the remainder of 2014 stood at nine Suezmax vessels with actual deliveries estimated to be lower in 2014.
For the first nine months of 2014, five Suezmax vessels were delivered and five have been scrapped in the same period. In 2013, six Suezmaxes were scrapped compared to 21 in 2012 and eight during the year 2011.
With Nordic American Tankers (NAT) being a Suezmax focus player, a decreasing fleet would impact the freight rates and thereby the performance of the company. Freight rates will also affect the performance of the Guggenheim Shipping ETF (SEA) and peers like DHT Holdings (DHT), Teekay Tankers (TNK), Frontline Ltd. (FRO), and Tsakos Energy Navigation Ltd. (TNP).