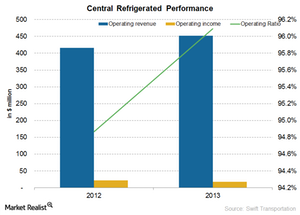 Swift's new Central Refrigerated segment
By Ally Schmidt

Updated
What's the Central Refrigerated segment?
The Central Refrigerated segment deals with trucks and trailers that have temperature-controlled refrigerating systems, known as reefers. Reefers are used to transport perishable goods—like fresh fruits and vegetables, meats, frozen foods, and dairy products.
Reefers also transport other high-value loads—like pharmaceutical drugs, fine art and antiques, tobacco products, personal care products, chemicals and engineered materials. The reefers transport the goods at ideal temperatures and humidity levels so they arrive safely at their final destinations.
Article continues below advertisement
Swift's Central Refrigerated segment
Swift Transportation's (SWFT) new Central Refrigerated segment offers shipments for customers. The shipments require temperature-controlled trailers. The company acquired Central Refrigerated Transportation Inc.—the fifth largest provider of temperature-controlled truckload services in the US—in order to expand its fleet and service offerings in this segment. The acquisition is expected to make Swift the nation's second largest temperature-controlled truckload provider.
Segment's performance
Swift's Central Refrigerated segment reported a 12.5% drop in revenue—minus the fuel surcharge. Its revenue was $80.6 million. The segment was under pressure in the quarter due to the large driver wage increase and other implications of the acquisition.
Going forward, it's expected to start contributing to the company's bottom line. Many of the company's current customers are expanding into the refrigerated segment. The company is expected to grow its fleet in the coming quarter and beyond.
The Central Refrigerated market also looks strong. Demand is expected to grow in the coming year. The year-over-year, or YoY, rates improved in 2013. They're expect to improve in 2014 and beyond.
Other companies in this segment include J.B.Hunt Transport (JBHT), Knight Transportation (KNX), and Old Dominion Freight Line (ODFL). The companies are part of the First Trust Mid Cap Growth AlphaDEX Fund (FNY).