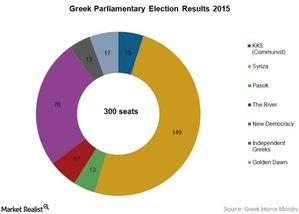 Subdued market reaction to Syriza party win in Greece
Change is the new constant in Greece
Market Realist has been following the political crisis in Greece for a while:
Political crisis in Greece has investors on edge
The situation in this Eurozone country has now taken a very interesting turn. On January 25, left-wing Alexis Tsipras led his Syriza party to power, and on January 26, was sworn in as the new prime minister of Greece. The election ends over four decades of alternating rule by the New Democracy party and the Pasok party that began when a seven-year-long military dictatorship in Greece ended in 1974.
Outgoing Prime Minister Antonis Samaras's New Democracy party had been in power since June 2012, when it formed a coalition with its predecessor, the Pasok party.
Article continues below advertisement
Market reaction to elections in Greece
Given that opinion polls had predicted these results for some time, market reaction to the Syriza win in Greece was largely subdued.
The Greece equity-tracking Global X FTSE Greece 20 ETF (GREK) lost 3.5% on January 26 after a January 23 close of $13.06. Investors fear Greece's position in the Eurozone may be in jeopardy. Spillover effects from the change in rule could also hit other European economies such as Spain and Italy. These countries have struggled under their own austerity measures and are still years away from a full recovery.
The iShares MSCI Italy Capped ETF (EWI) invests up to 92.66% of its portfolio in the Italian equity market. Meanwhile, the iShares MSCI Spain Capped ETF (EWP) invests up to 99.68% of its holdings in the Spanish equity market.
Beta values
According to Investopedia, a beta value of 1.2 indicates a stock is 20% more volatile than the market. Beta values are measured against the standard index for a given fund.
Greece, Italy, and Spain are all considered riskier investment markets at the moment. The Greece equity-tracking ETF beta, 2.79, is highest of the three. The Italy-tracking ETF beta is 1.46 and the Spain-tracking ETF beta is 1.61. By way of comparison, the broader European equity-tracking Vanguard FTSE Europe ETF (VGK) has a beta of 1.06, while the iShares MSCI ACWI ETF (ACWI) sports a beta of 0.79.
The ACWI measures the combined equity market performance of developed and emerging markets countries.
Anti-austerity Syriza party wins elections in Greece
Syriza's win comes as a result of staunch opposition to the austerity program that was set out by the "troika" as a condition of Greece's 240 billion euros, or $269 billion, international bailout. The European "troika" consists of the European Central Bank, the European Commission, and the International Monetary Fund.
The proponents of anti-austerity are welcoming the change in the economy's governance. They are hopeful for a better tomorrow, as Greece struggles to live with an unemployment rate as high as 26% and an anemic growth rate.