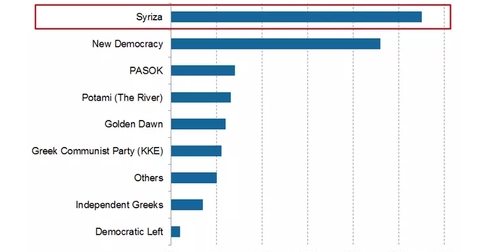 Speculation of Greek exit leads investors to gold
By Anuradha Garg

Updated
Greece's subdued performance
Much like the economies of Italy and Spain, Greece's economy has shown subdued performance over the years, to say the least.
Greece is seeking a bailout extension, but this will only be possible if it agrees to the troika's conditions, or mandatory economic reforms. The European troika consists of the European Central Bank, the European Commission, and the International Monetary Fund. The reforms the troika wants to impose are austerity measures that are now the focus of a heated debate in Greece.
Greece is making headlines on a regular basis these days. The country's internal political strife appears to be threatening the entire Eurozone's financial and political stability.
In 2010, Greece was the first economy to spark the European debt crisis, followed by Ireland, Spain, and Portugal.
Article continues below advertisement
The conjecture that Greece may exit the Eurozone was sparked by a report published in Spiegel, an online German news magazine. The report said that German Chancellor Angela Merkel believes the Eurozone could cope with Athens leaving the common currency, a scenario popularly dubbed a Greek exit or Grexit.
Greece's snap elections
Greece's snap elections are due on January 25, 2015. Opinion polls show Greek Prime Minister Antonis Samara hasn't narrowed the lead of his top opponent from the Greek anti-bailout party Syriza, boosting concerns that a change in political leadership could spur an exit from the euro area.
 Instability and gold
Gold futures rose to an 11-week high on speculation that Greece will abandon the euro. This boosts the appeal of precious metals, including gold (GLD), as a safe haven asset. This also positively benefits gold companies, including Newmont Mining Corporation (NEM), Goldcorp (GG), and Agnico Eagle Mines (AEM). It also benefits ETFs investing in these stocks, including the Gold Miners ETF (GDX).