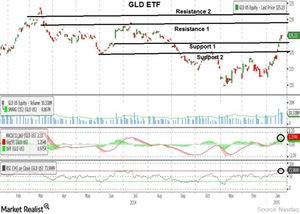 Why gold rallied after the ECB announced its stimulus program
Gold rallied
Gold and its ETFs—like the SPDR Gold Trust (GLD)—had already climbed due to the expectation of potential quantitative easing from the European Central Bank, or ECB, and uncertainty in the currency market. However, gold rallied due to the ECB's massive stimulus program.
Higher gold prices are positive for other ETFs and stocks. The VanEck Vectors Gold Miners ETF (GDX), the VanEck Vectors Junior Gold Miners (GDXJ), Goldcorp (GG), and Barrick Gold Corporation (ABX) declined.
COMEX Gold Futures' February 2015 contract rallied from an intraday low of $1,279.90 per ounce to the day's high of $1,305.20 on January 22, 2015. Similar to the gold price, GLD had a steady increase through the day's trading session. It was trading at $125.10.
The ECB's quantitative easing and uncertainty surrounding Greece's political environment continue to be positive for gold and its ETFs—like GLD—in the near term.
Article continues below advertisement
The recent momentum might push GLD to the next resistance at $129.50. After reaching $129.50, GLD could move to $133.70 due to more bullish news and technical catalyst. In contrast, the Relative Strength Index, or RSI, is in overbought territory. This suggests a negative price trend. However, the Moving Average Convergence Divergence, or MACD, is above the zero line. This suggests a positive price movement in the short term.
In the next part of this series, we'll provide a technical analysis update for GDX and GDXJ.