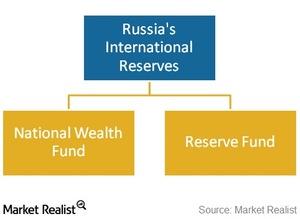 Russian banks try to recapitalize due to low international reserves
By Surbhi Jain

Nov. 20 2020, Updated 5:23 p.m. ET
Russia's international reserves hit a low
Russia's international reserves include the central bank's reserves along with two sovereign wealth funds, the National Wealth Fund and the Reserve Fund. The National Wealth Fund aims at covering pension liabilities, while the Reserve Fund collects the bonus oil revenues in the economy to accommodate any possible budgetary shortages.
The Bank of Russia has been digging into these reserves in an attempt to defend the depreciating currency. As a result, these reserves shrunk by about 20% this year to $398.9 billion as of December 19.
Article continues below advertisement
Russian banks need recapitalization
Having been shut out of international funding due to the sanctions imposed by the West, Russia's largest banks—such as OAO VTB Bank, Gazprombank (OGZPY), and Russian Agriculture Bank—have been looking to the state fund to help them meet loan demand. The VanEck Vectors Russia ETF (RSX) invests in OAO VTB Bank and Gazprom. It also invests in major Russian oil companies including Lukoil (LUKOY), Surgutneftegas OJSC (SGTZY), OAO Tatneft (OAOFY), and OJSC Rosneft Oil.
On December 27, the Kremlin made an announcement in its prime ministerial decree to keep Russia's banks afloat. According to the decree, the Finance Ministry allowed as much as 10% of the National Wealth Fund to be used for recapitalizing banks in order to boost lending investment projects. The NWF was valued at $81.7 billion as of November 1.
Article continues below advertisement
The government steps in to support banks in Russia
Prime Minister Dmitry Medvedev told a government session that he had just signed a decree to provide a total of RBL 500 billion (~$9 billion) to Russian banks. The list of banks and the amount that each of them will receive is expected to be drawn up by mid-January, according to Deputy Prime Minister Igor Shuvalov. The central bank also said it will offer dollar and euro loans to banks so that they can help major exporters that need foreign currencies to finance operations.
Moreover, on December 29, President Vladimir Putin doubled the deposit guarantee for bank accounts to 1.4 million rubles (~$25,370). Putin has also given the Russian central bank the power to recapitalize the country's biggest retail bank, Sberbank (SBRCY), directly with subordinated debt. However, the total amount of subordinated debt must not exceed Sberbank's capital as measured on January 1, 2015.
To read more on the implications of the rate hike in Russia, read our article Why The Russian Rate Hike Could Cause Trouble.