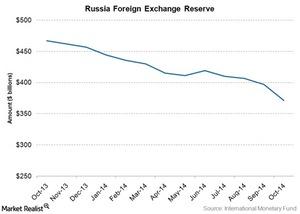 Why Russia may need capital control measures to save the ruble
By Surbhi Jain

Jan. 7 2015, Updated 10:04 a.m. ET
Will Russia resort to capital controls?
In addition to the recent interest rate hike, Putin may need to exercise capital control measures in order to cushion Russia's depreciating ruble. These measures are intended to limit the outflow of foreign currency from the Russian economy. Investors are demanding a widening premium for owning ruble-denominated bonds traded in Moscow rather than ruble debt that trades in international markets. The yield gap has widened to levels last seen in January 2013.
Article continues below advertisement
Informal capital controls by Russia
On December 23, the Russian government also imposed informal capital controls in an attempt to cushion the declining ruble. The government ordered five state-owned exporters—including energy groups Gazprom (OGZPY) and Rosneft (OJSCY)—to sell their foreign currency reserves on the domestic market in an attempt to shore up the ruble. Of course, companies that needed to repay large foreign debts could continue to accumulate hard currency.
The central bank has also begun sending supervisors to monitor currency trading at major Russian banks.
Russia's central bank expects net capital outflows to hit $130 billion this year. The economy can't afford to lose any more of its foreign exchange reserves, which have already bottomed out.
Market impact
Following the Russian government's decision to introduce informal capital control measures, the ruble recovered from the dismally low levels it saw in the past two weeks. The improved sentiment reflected in exchange-traded funds tracking the Russian markets. On December 24, the RSX gained 3.3%, while the ERUS gained 2.3% and the RBL gained 3.1%.