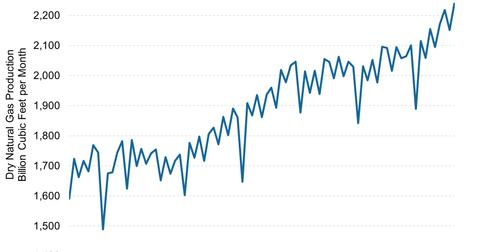 Record natural gas production makes for bearish outlook
By Keisha Bandz

Jan. 12 2015, Updated 9:41 a.m. ET
Production trends
According to the EIA (U.S. Energy Information Administration), as of October 2014, the most recent month for which EIA data are available, dry natural gas production was 72.2 bcf/d (billion cubic feet per day), which is 6.8% higher than it was in October 2013. Dry natural gas production, according to the EIA, was at a record high in October for the eighth consecutive month.
According to Bentek Energy, an energy market analytics company, production is projected to have increased further during the month of December to 72.8 bcf/d. Bentek Energy also indicated that production hit a one-day record high of 73.6 bcf/d on December 20.
The EIA is likely to come out with its December data in February.
Dry natural gas is the natural gas that remains after liquids such as propane and butane have been removed from the marketed natural gas. Dry natural gas is also known as consumer-grade natural gas.
According to Bentek Energy, average production for 2014 was approximately 68.4 bcf/d.
The EIA continues to be bullish about natural gas production in 2015. To know more, read Must-know: Why the EIA is bullish about natural gas production.
In fact, according to the EIA's projections, 2015 will be the tenth consecutive year of production gains, thanks to booming production from shale plays, especially the Marcellus.
Article continues below advertisement
Weather: Another factor that will influence natural gas prices
The EIA forecasts that residential and commercial demands will be lower on account of forecasts for milder temperature and higher natural gas prices. Demand from the power sector, however, is driving natural gas consumption. According to EIA data, consumption for October 2014 was 1 62.6 bcf/day, a 3.9% increase from October 2013. The increased demand is coming mostly from the power sector.
However, due to booming production and warmer temperature forecasts, inventories haven't been strained. The EIA projects the end‐of‐March 2015 inventories to total 1,431 bcf.
Therefore, it remains to be seen which opposing force will influence natural gas prices more. Investors will watch both of these crucial indicators to determine the natural gas price outlook.
Strong prices are positive for gas-producing companies' margins such as Southwest Energy (SWN), Range Resources (RRC), WPX Energy (WPX), and QEP Resources (QEP). Since most of these companies are part of the Energy Select Sector SPDR ETF (XLE), the energy price outlook will likely affect the ETF as well.