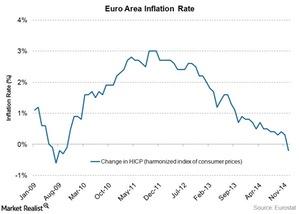 Quantitative easing to combat negative inflation in the Eurozone
By Surbhi Jain

Updated
The inflation rate helps determine the required rate of return for equity investors
The inflation rate is a key indicator tracked by stock investors. It helps determine the real value of losses or gains on an investment and the rate of return required to compensate for any loss in real value. For example, if inflation were at 5% a year and the total value of your investment also increased by 5% that year, in real terms, you would have just managed to stay even and made no real gain. An equity investor should adjust their risk premium for expected inflation before determining their required rate of return.
Article continues below advertisement
Inflation in the Eurozone
Stubbornly low inflation in the Eurozone—which you can access through ETFs such as the Vanguard FTSE Europe ETF (VGK), the iShares MSCI EMU Index Fund (EZU), the iShares S&P Europe 350 Index Fund (IEV), the Wisdomtree International Hedged Equity Fund (HEDJ), and the SPDR DJ EURO STOXX 50 ETF (FEZ)—has remained a problem for the ECB (European Central Bank). The ECB is now set to take to quantitative easing measures. Ever since inflation in the Eurozone fell below 1% in October 2013, ECB Chief Mario Draghi has been toying with the idea of launching QE (quantitative easing) aimed at boosting the money supply to ramp up inflation.
Inflation enters negative territory in the Eurozone
December's decline in headline inflation to -0.2% from 0.3% in November was driven by lower energy prices, which fell 6.3% on the year, and a 1% drop in food prices. With negative inflation for the first time in five years in December 2014, the ECB has moved further toward providing the European economy with its much-needed and long-awaited stimulus.
Consequently, on January 22, Mario Draghi, Chief of the European Central Bank, announced that the European Central Bank (or ECB) would begin buying bonds worth 60 billion euros ($69.7 billion) a month. The stimulus package should help the economy recover from its economic abyss.
Weak demand in the Eurozone, coupled with lower energy costs, have prompted businesses to cut prices, leading to more downward pressure on inflation. It has led the Eurozone to enter the deflation territory in December 2014, when the economy recorded negative inflation. Deflation is a situation when shoppers start holding back from making purchases, waiting for prices to fall further. Such a situation would be catastrophic for producers, who are already facing rock-bottom prices, as reflected in the producer price index, which we'll discuss next.