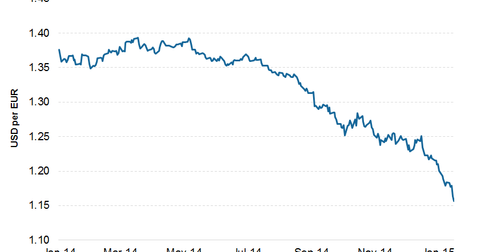 What does potential ECB easing mean for gold investors?
By Anuradha Garg

Updated
Potential ECB easing
The Swiss National Bank's, or SNB, move has repercussions for gold—beyond the foreign exchange volatility and people running to safe-haven assets. The most probable motivation behind the unexpected move was the potential easing by the European Central Bank, or ECB.
Article continues below advertisement
The ECB's policy meeting on January 22 will decide on the quantum and timing of the quantitative easing, or QE, efforts. The ECB's efforts intend to revive the Eurozone economy's growth. The efforts also intend to counter deflationary pressures.
Why QE?
The ECB has a target inflation rate of 2%. Inflation rates are now close to 0.3%. The ECB is worried that it's dangerously close to sliding into deflation. To combat this low inflation rate, the ECB is taking various measures. It already cut interest rates in September. Cutting interest rates more wouldn't revive the economy. That leaves the purchases of public and private debt as the main lever for lowering borrowing costs. This would create more lendable reserves at banks to encourage more lending.
Article continues below advertisement
QE's impact on gold
More QE in the Eurozone is like a double-edge sword for gold. On one hand, the ECB's loose monetary policy will strengthen the US dollar against the euro. This is negative for gold. On the other hand, it will lead investors from the Eurozone to gold and other precious metals. Gold and precious metals are considered a safe haven in times of economic uncertainty. Therefore, euro-denominated gold should benefit from any such move.
How the US dollar is strengthened by this will determine the potential downside it will have on gold prices in US dollar terms.
In turn, gold prices impact the ETFs that track the physical gold price—including the SPDR Gold Trust ETF (GLD). All of the gold miners' stocks—including Goldcorp (GG), Barrick Gold Corporation (ABX), Newmont Mining (NEM), and Kinross Gold (KGC) are impacted by any move it gold prices. The VanEck Vectors Gold Miners ETF (GDX) is also impacted by movements in gold prices.