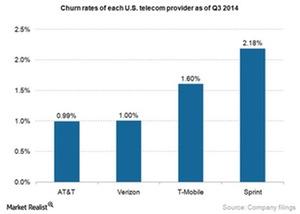 Post-paid churn is one of the most important wireless indicators
By Ray Sheffer

Jan. 21 2015, Updated 8:13 a.m. ET
Post-paid churn
In the last part of this series, we discussed wireless telecom's key indicators. Now, we'll focus on one of the most important wireless metrics—post-paid churn. Post-paid subscribers are US wireless telecom companies' biggest revenue segment. They have a significant lifetime value for telecom companies. Investors should understand how wireless telecom companies are currently managing their post-paid churns.
Article continues below advertisement
Large US telecom companies' churn rates in 3Q14
As you can see from the above graph, in 3Q14, AT&T (T) and Verizon (VZ) had the best customer retention among US telecom companies. They had a churn rate of 1%. However, Sprint (S) had the worst churn rate. Its churn rate was ~2.2%. It was followed by T-Mobile (TMUS).
In absolute terms, AT&T had the best churn rate. It can attract customers to new subscription plans—like the Next program. The new plans have a higher customer life. Also, Apple's (AAPL) customers remain loyal to AT&T. It was the first carrier to sell the iPhone in 2007. It sold the iPhone exclusively until the end of 2010. Read Must-know: Why AT&T's churn rate is the best in the industry to learn more.
Verizon has the second best churn rate among US telecom companies. It has the best network performance. Also, like AT&T, Verizon retained its customers by moving them to new plans—like EDGE. The new plans should have a higher customer life. Verizon has a larger share of tablets—with low churn rates—in its sales portfolio. This also helped the company. Please read Must-read: Why Verizon is able to maintain low churn rates to learn more.
Sprint has the worst churn rate among its peers. It has been losing customers throughout the year. It's upgrading to a LTE (Long-Term Evolution) network. It's critical for Sprint to upgrade its network. It has the worst network performance among its peers. Read Why Sprint's churn rate remains the worst in the industry to learn more.