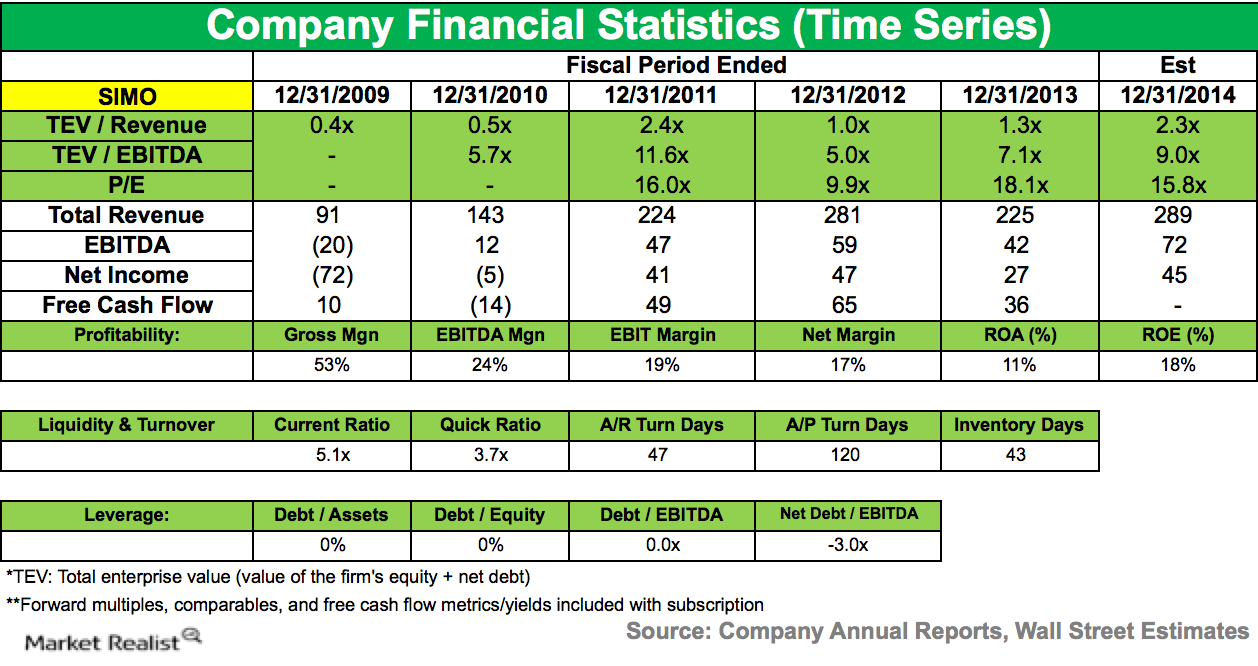 Point72 raises its position in Silicon Motion Technology
Point72 and Silicon Motion Technology
Point72 Asset Management increased its position in Silicon Motion Technology Corp. (SIMO). A 13G filing in January noted that the fund owns 1,797,885 shares. This is up from the 1,550,157 shares reported in the 3Q14 portfolio. The filing said the fund owns a passive stake of 5.5% in the company.
Article continues below advertisement
Overview of Silicon Motion Technology
Silicon Motion Technology is a fabless semiconductor company that designs, develops, and markets high performance, low-power semiconductor solutions. The company provides these solutions to OEMs (original equipment manufacturers) and other customers in the mobile storage and mobile communications markets. The company markets mobile storage products under the SMI brand and mobile communications products under the FCI brand.
For the mobile storage market, its key products are microcontrollers, memory cards, and USB flash drives. For the mobile communications market, its key products are handset transceivers and mobile TV SoCs.
SIMO shares fell even after record results in 3Q14
Silicon Motion recorded its highest quarterly revenue, non-generally accepted accounting principles (or GAAP) net income, and non-GAAP earnings per share (or EPS) in 3Q14.
Net sales increased 25% sequentially to $86.6 million. A 25% sequential revenue growth in embedded storage products drove growth in net sales. The embedded storage market is growing as a result of growth in smartphones and tablets.
Non-GAAP diluted earnings per American depository share (or ADS) increased to $0.57 from $0.41 in 2Q14.
Article continues below advertisement
4Q14 revenue to be seasonally weaker
For the fourth quarter of 2014, management expects revenue to decrease 5% to 10% sequentially, non-GAAP gross margin to be in the 50% to 52% range, and non-GAAP operating expenses to be in range of $21 to $23 million. Due to the weaker revenue outlook for 4Q14, SIMO shares fell 3.3% hours after it released its 3Q14 results.
Returned value to shareholders
In August, Silicon Motion paid a dividend of $5.1 million. In October, the company declared a quarterly dividend of $0.15 per ADS, equivalent to $0.0375 per ordinary share. The company expects stock-based compensation in 4Q14 to be $4 million to $5 million.
Point72's 13G positions
Point72 initiated positions in Jones Energy Inc. (JONE), MEI Pharma Inc. (MEIP), and Catalyst Pharmaceutical Partners, Inc. (CPRX).
The fund increased positions in Silicon Motion Technology Corp. (SIMO), RCS Capital Corp (RCAP), Kindred Healthcare, Inc. (KND), Crocs, Inc. (CROX), LogMeIn Inc. (LOGM), Kraton Performance Polymers Inc. (KRA), and Walter Investment Management Corp (WAC).
The fund reduced its position in Clearwater Paper Corp (CLW) and Shutterfly, Inc. (SFLY).
In the next part of the series, we'll discuss Point72's RCS Capital position.