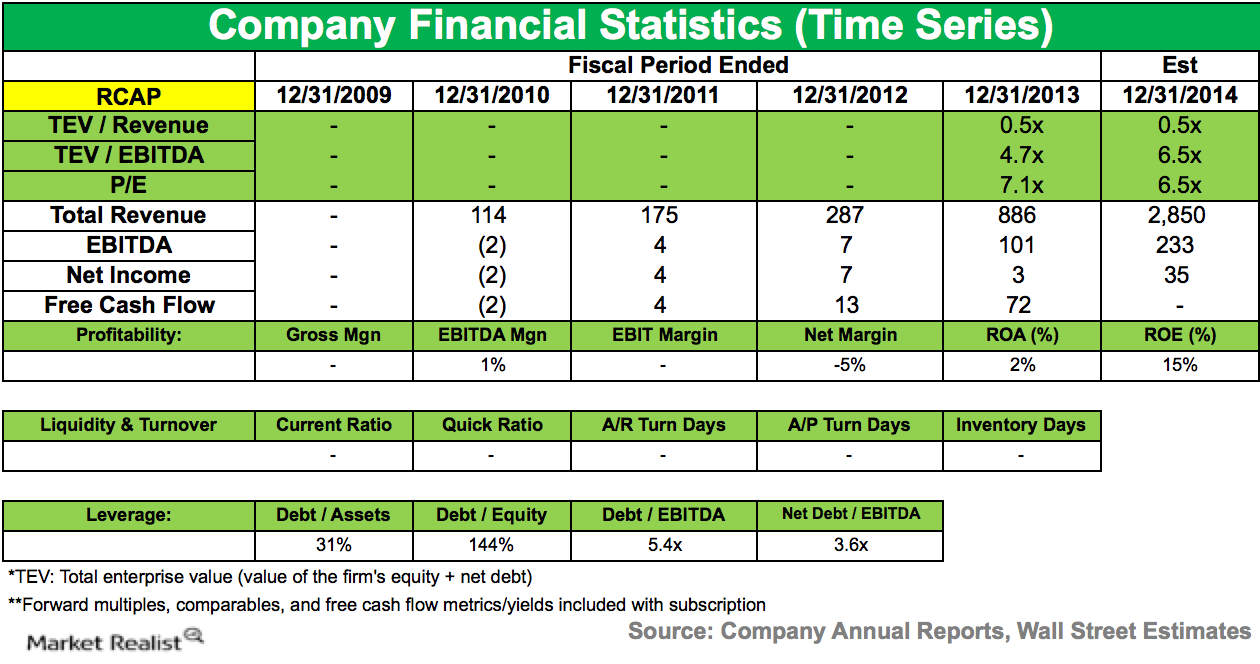 Point72 Asset Management increases its position in RCS Capital
By Diana Key

Jan. 19 2015, Updated 12:56 p.m. ET
Point72 and RCS Capital
Point72 Asset Management increased its position in RCS Capital Corp (RCAP). A 13G filing in January noted that the fund owns 4,486,326 shares of the company. This is up from the 548,500 shares the company reported in its 3Q14 portfolio. The filing said the fund owns a passive 6.8% stake in the company.
Article continues below advertisement
RCS Capital in brief
RCS Capital is an investment firm that focuses on the retail investor. Through its subsidiaries, it operates in six segments:
independent retail advice
wholesale distribution
investment banking
capital markets and transaction management services
investment management
investment research, corporate, and other
ARCP accounting scandal impacts RCS Capital's market value
In November, RCS Capital terminated a $700 million deal to acquire Cole Capital from ARCP. The companies had announced the deal in October prior to ARCP's disclosure of accounting errors. ARCP sued RCS over the termination, but settled the litigation in December for $60 million.
While both ARCP and RCS Capital are separate entities, Nicholas Schorsch chaired both companies. RCAP's shares fell earlier in November on reports that some of its broker-dealers such as LPL Financial Holdings (LPLA), Securities America, and other brokerage firms suspended sales of non-traded REITs and other products that RCS and ARCP sponsored.
RCAP issued a statement stating it "does not distribute any of ARCP's (Cole Capital's) non-traded REIT securities through its wholesale distribution network." The company further said that "broker-dealers that have temporarily suspended sales are likely to reinstate the selling agreements."
Read Assessing Corvex Management's activist stance on ARCP for more details.
Article continues below advertisement
Change to board of directors
On December 30, RCS Capital elected Mark Auerbach to the role of chairman. He succeeds Nicholas Schorsch, who stepped down from his position as director and executive chairman of the board.
RCS's audit following ARCP accounting errors
After ARCP accounting errors, RCS's audit committee retained independent external counsel to conduct a review in accordance with specified procedures. It said, "Following counsel's review, RCS remains confident in its reported historical financials, accounting, and internal controls for each of the three quarters in the nine-month period ending September 30, 2013."
Article continues below advertisement
3Q14 highlights
Revenue was $725 million, up 10% year-over-year (or YoY).
Adjusted net income was $35.5 million or $0.40 per fully diluted share, a 51% increase YoY.
The increase was driven by higher retail and investment management segment performance, partially offset by lower equity capital raised by wholesale distribution platforms.
For 2014, the company expects adjusted earnings before interest, tax and amortization (or EBITDA) to be $288 million to $300 million, which includes annualized synergies of $57 million to $65 million.
Point72's 13G positions
Point72 initiated positions in Jones Energy Inc. (JONE), MEI Pharma Inc. (MEIP), and Catalyst Pharmaceutical Partners, Inc. (CPRX).
The fund increased positions in Silicon Motion Technology Corp. (SIMO), RCS Capital Corp (RCAP), Kindred Healthcare, Inc. (KND), Crocs, Inc. (CROX), LogMeIn Inc. (LOGM), Kraton Performance Polymers Inc. (KRA), and Walter Investment Management Corp (WAC).
The fund reduced its position in Clearwater Paper Corp (CLW) and Shutterfly, Inc. (SFLY).
In the next part of the series, we'll discuss Point72's position change in Kindred Healthcare.